If you are a hands-on type of person with lots of tools in your garage, there comes a time when you'll need to clear out some of these items.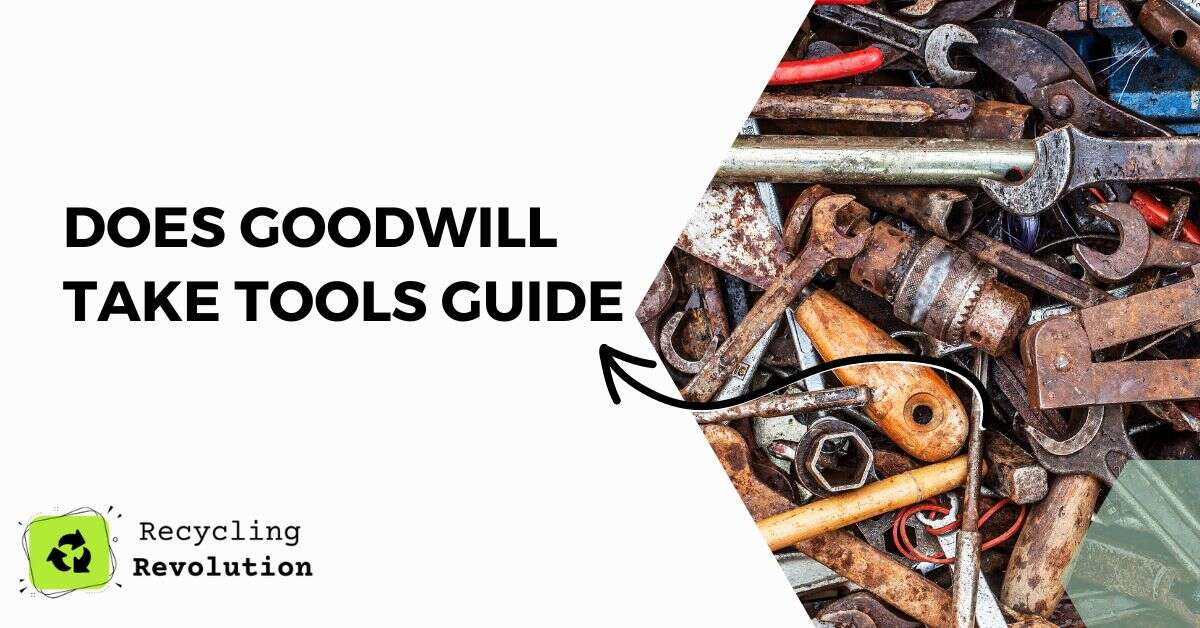 Think of the duplicate hand tools, old power tools and other extra materials taking up space in your home or workshop. It's enough reason to ask if Goodwill takes unused tools.
Donating unused and tools items to a non-profit like Goodwill ensures these items are not thrown out in the landfills and other people can get used of them.
Additionally, many DIYers would be happy to use these tools for their projects.
On that note, we're going to discuss whether you can donate tools to Goodwill as well as other organizations likely to accept them.
Can you donate tools to Goodwill?
There is something quite gratifying about decluttering. Your space feels bigger and looks so much better without hundreds of items lying around everywhere.
With that being said, you can't simply get rid of unwanted items by tossing them into the garbage can. We know that it's bad for the environment that most usable items would end up in a landfill.
This is where non-profit organizations like Goodwill come into play. Goodwill accepts many items as donations and resells them with proceeds going to various charitable works.
However, they don't take everything as they have specific guidelines for acceptable donations. So, does Goodwill take tools? The answer is yes.
| Tool | Goodwill Accepts? |
| --- | --- |
| Screwdriver | Yes |
| Hammer | Yes |
| Power drill | Yes |
| Wrench | Yes |
| Paintbrush | Yes |
| Hand saw | Yes |
| Garden hoe | Yes |
| Chain saw | No |
| Weed whacker | No |
| Gasoline-powered tools | No |
| Explosives | No |
Most of these tools can be found in a typical household. However, unless you're a handyman they are barely used. Not forgetting the gadgets we buy with the intention of using them someday and that day actually never comes.
Only used tools in safe working conditions can be accepted so it's best to be sure they are in good working condition before dropping them off as you may incur a fine for dropping off items that a deemed unfit for donating. Ensure they're clean, safe to use and can be resold.
If you have any of the tools on this list collecting dust in your garage or workshop, Goodwill will gladly accept them and you may be happy to know that donating your tools could make you eligible for a tax deduction.
Other places to donate tools you don't need
Goodwill is just one of the many non-profit organizations that take tools. If you would prefer to donate your items elsewhere, we have a few great ideas that will make somebody's day with your tool donation.
Below is a list of other charities that accept tools for donations.
Habitat for Humanity
Homelessness has become a grave issue in the United States and the world at large. Thousands of families are out on the streets and in the cold as they're unable to afford proper housing.
Habitat for Humanity is a remarkable charitable organization that builds and renovates homes for vulnerable families across the United States. People often donate tools, furniture, home appliances and building materials to the non-profit.
The items are then sold at decent prices and the proceeds used to fund their work.
The Salvation Army
The work of the Salvation Army dates to the late 1800s.
It's a non-profit that helps disadvantaged families and individuals through youth programs, care centers for the elderly and rehabilitation centers for drug and alcohol addiction.
The Christian-based charity organization is also known for its homeless shelters and provides accommodation to all kinds of people regardless of their beliefs.
With that in mind, the Salvation Army also has over a thousand thrift stores in the country that take donations of tools such as lawnmowers, hand tools and garden equipment.
Vietnam Veterans of America
The Vietnam Veterans of America supports veterans in the United States. They advocate for all kinds of people regardless of the service periods.
Their work involves assisting disabled veterans, and those dealing with PTSD as well as advocating for improved healthcare access. In order to raise funds to support their courses, they take all sorts of donations including hand and power tools.
If for some reason you can't drop them off, they'll come to your doorstep and pick them up.
Earth 911
In instances where you can't find a donation center nearby, Earth 911 is a great resource. It's where you'll find information concerning places you can donate several items such as tools.
Use the Earth 911 search page to find donations and recycling centers around your area. What you'll need is the zip code and a list of the items you want to donate.
Input these details into the search page and it will show you all nearby charity organizations that take tools. Aside from this, you will also be able to see different locations that recycle old and unusable tools.
Depending on the condition of the tools, you can opt to donate or recycle them.
Donate to a School
Schools that teach trades to kids are another good way of contributing to your local area. We suggest finding non-profits that help the less fortunate by providing education for skills in demanded trades.
You can search for organizations in your local community or nationally-recognized organizations. You can also read reviews and ratings of these organizations to ensure that they have a good reputation and a history of effectively supporting their beneficiaries.
Tax Deductions on Donated Tools
Tax deductions and charity go hand in hand where everyone wins. So when you donate tools to a qualified charitable organization like Goodwill, Habitat for Humanity, or Vietnam Veterans of America, you may be able to deduct the fair market value of the donated items on your tax return.
To claim a deduction for a charitable donation, you must itemize your deductions on your tax return using Form 1040 and Schedule A.
The value of the deduction will depend on the fair market value of the tools at the time of the donation. Fair market value is the price that a willing buyer would pay a willing seller for the item in an arm's length transaction.
The IRS requires that you keep documentation of your donation in order to claim a deduction. This includes a receipt from the charitable organization that includes the name of the organization, the date and location of the donation, and a description of the items donated.
For donations valued at $250 or more, you must also obtain a written acknowledgement from the organization that describes the items donated and includes a statement that no goods or services were provided in exchange for the donation.
It's important to note that tax deductions for donated tools are subject to certain limitations. For example, you may only deduct donations that exceed 2% of your adjusted gross income (AGI). Additionally, if the total amount of your itemized deductions does not exceed the standard deduction for your filing status, you may not benefit from the tax deduction for your donation.
Final Thoughts
We can't all be avid DIYers but even so if you are a caring person who is interested in uplifting the less fortunate then this is the perfect way to pay it forward for charity. There is someone out there in urgent need of that lawn mower you may have no use for.
Goodwill accepts tools as donations. Just make sure they're not very large and heavy tools as these aren't accepted. Also, don't try to donate damaged or faulty tools.
FAQs
What items does Goodwill accept Florida?
Some of the items that Goodwill accepts as part of donations in Florida include furniture that's in proper condition, clothing, books, shoes, accessories, furniture, cookware, dishes, hand tools, medium-sized lawn mowers and so on.
Is Goodwill only in America?
No, the non-profit has community-based organizations in countries outside the United States such as South Korea, Mexico, Brazil, Canada, Panama, Venezuela and many more.
All these counties have Goodwill retail stores where people can donate as well as purchase items at reasonable rates.
Thanks for your feedback!