Bras are not just an everyday essential. Whether you wear them for running, working out, or even yoga, bras are important and should be taken care of. However, when they've outlived their usefulness and you're ready to get a new one, what is the next step?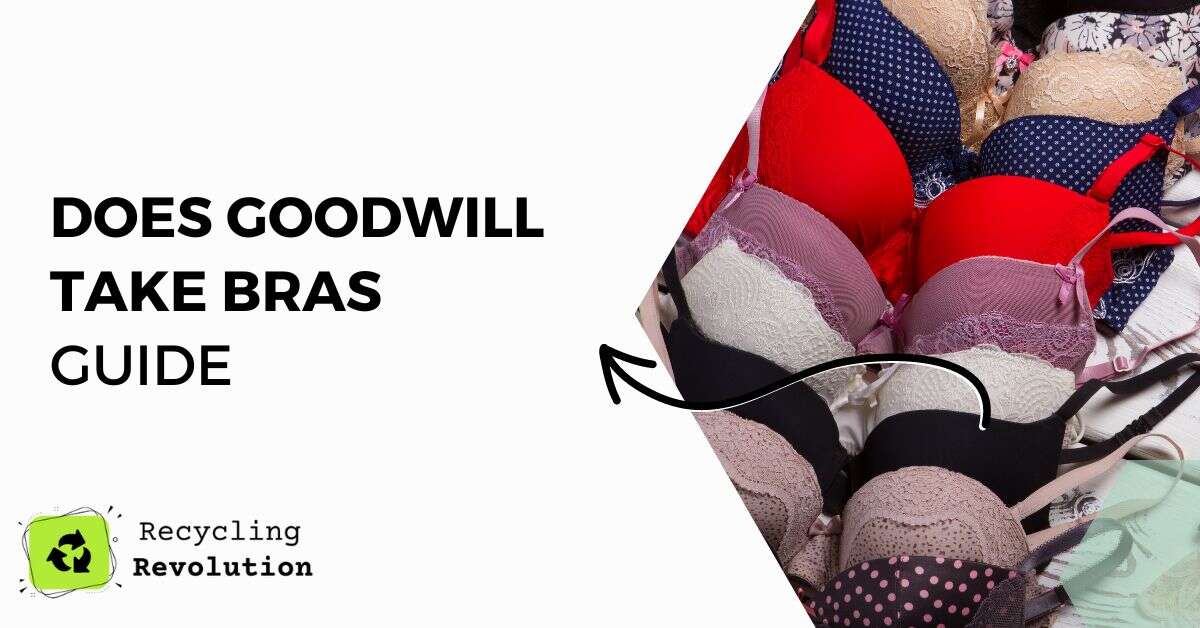 Does Goodwill take bras? Do you have to throw your old half-forgotten bras away? Can't you donate them?
These are questions that might cross your mind. Read on to find out how to donate your bras and how to correctly dispose of them to ensure that your old bras are either put to good use or properly disposed of.
Can you donate bras to Goodwill?
People occasionally declutter because they have too much stuff. However, the most popular reasons for decluttering are to purge the unnecessary clutter to make more room inside your home and make cleaning easier, or because you are moving.
With all of that in mind, one might think that instead of chucking their old bras into the trash can, they could donate them to Goodwill. That way, others in need will be able to benefit from your unloved bras as well! Initially, this may seem like a good idea; however, donations are reviewed before being accepted.
As you might imagine, Goodwill does not accept any torn, stained, wet or soiled bras. Instead, they will happily accept new or gently used bras.
A lot of the items that are donated to Goodwill are sold at its thrift stores. Therefore, donated items including bras should be in proper condition so that future buyers can purchase them at Goodwill stores. This means that your bras will be put to good use and not thrown away.
Here's what Goodwill accepts and what they don't accept:
| Accepted | Not Accepted |
| --- | --- |
| New or gently used bras in good condition | Bras that are heavily worn, torn, or have underwire showing |
| Sports bras | Bras with missing hooks or straps |
| Nursing bras | Bras that are heavily soiled or stained |
| Wireless bras | Bras that are stretched out of shape |
Its important to note that not all locations accept bra donations. This is because some are already saturated with donated bras and other items. Therefore, it is best to check with your local Goodwill store to find out if they can accept your items.
Where else can you donate bras?
Every year, millions of pounds of textiles are thrown into landfills. This only increases the problem of too much waste. Fortunately, there is a way to help minimize the amount of clothing thrown away by donating it to charitable organizations or other organizations that accept clothing for recycling purposes.
These donations are reused by charity organizations and others in need, including disadvantaged women and children in developing countries around the world. Here is a list of places that also accept bra donations.
B.R.A (The Bra Recycling Agency)
B.R.A is an organization that ensures bras don't end up in landfills and instead recycles the material into useful products. The organization accepts bra donations so that they can be recycled into other useful products such as prosthetics, industrial rags, scarves and more.
If you wish to recycle your bras through the program, get a shipping label from their official website. You can then send in your bra donation through the mail.
Free the Girls
This is a charity that rescues and helps victims of sex trafficking to get back on their feet and start their businesses. Free the Girls takes gently used bras of various sizes and styles as a donation. They've partnered with businesses and churches across the country to serve as drop-off locations for their bra donation program.
You can also mail the items to them if you can't find a drop-off centre nearby. This way, they will help other women and girls to get out of sex trafficking and restore hope to their lives.
I Support the Girls
Another charity organization that accepts bra donations, I Support the Girls donates bras to homeless women who have no access to bras and other feminine hygiene products.
They've partnered with many drop-off locations where you can put your old, gently used or new bra donations.
You can also mail your bras to them if you cannot find a drop-off location nearby. Every donation helps, big or small! There are a lot of women and girls who need these items including those in domestic violence shelters, foster care, migrant shelters and more.
Planet Aid
Planet Aid is a non-profit organization that gathers donations on behalf of the International Rescue Committee (IRC) to provide humanitarian aid and relief aid around the world.
Planet Aid has partnerships with more than 1,200 charities in more than 60 countries as well as a large network of corporate donors that are committed to helping women, girls and other vulnerable populations who are in need. The organization will accept bras donations for distribution to women and girls around the world.
Local shelters
A lot of women and girls who are homeless and in need of bra donations are also served by local shelters. The shelters include domestic violence shelters, rape crisis centres and more.
Shelters may accept bras from their residents, but they also provide other necessary items including hygiene products such as razors and toothbrushes, clothing for women and children, toiletries such as deodorant and even baby supplies for new moms.
Final Thoughts
Can you donate your old bras and make a difference in a person's life? Of course, you can! As the previous suggestions have shown, various organizations accept bra donations, so don't just throw your bras into the trash or leave them in your closet. Let your bras make a difference in someone else's life!
FAQs
Can you donate bras?
There are several organizations that accept donations and use them to help people in need. The best way to know if your bras can be donated is to contact the organization directly. While charities do not usually accept wet or stained bras, gently used ones are accepted in many instances.
How do I donate bras to a charity?
Most organizations will accept your bras donations via their official websites. Others will accept them at the drop-off locations that are listed on their websites. Donations can sometimes be dropped off at their office and other times, you may have to mail them in.
Thanks for your feedback!