While it barely gets any recognition, a table is quite a necessary part of our living rooms. Its where people gather to socialize and talk about their day over a cup of coffee or glass of wine.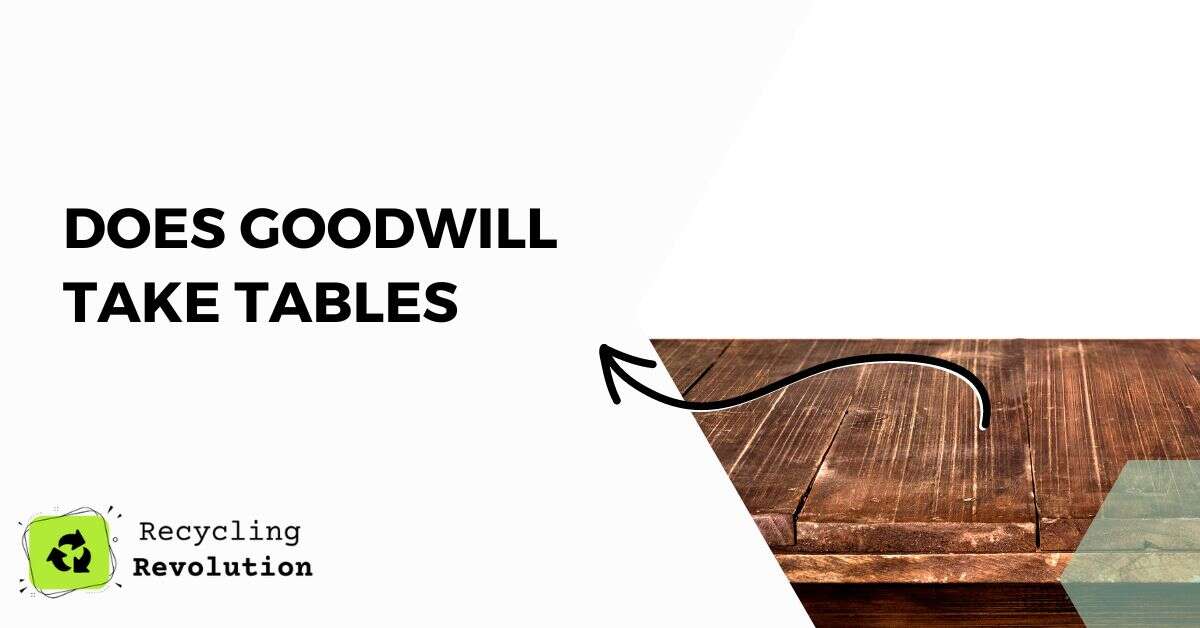 With that in mind, it's perfectly normal to update your living space and add some brand-new items. Maybe you want to change the aesthetic of your living room to something completely different.
You may have to buy a new table that matches the kind of look you´re going for in your home. Instead of tossing your old table aside, you can donate it to a worthy cause like Goodwill. But first, does Goodwill take tables?
Can you donate tables to Goodwill?
As a charity organization, Goodwill accepts donations which are then sold in their stores. This is a great concept because it allows the non-profit to raise funds and support their various programs.
For instance, the Goodwill training programs have helped hundreds of people find good jobs and earn a living. In return, there are lesser cases of joblessness and homelessness. It's no secret that donations are a fundamental part of the operation and success of a non-profit organization like Goodwill.
It's pretty common for people to go through their belongings once in a while and donate what they no longer need. It's the perfect way to remain organized and keep your home squeaky clean. Now an old table would surely be an eyesore unless you´re using it. The obvious thing to do, in this regard, is donate it to a charity such as Goodwill.
You´ll finally get rid of the coffee table that´s reached the end of its usefulness in your home and help save the environment through recycling.
With that in mind, Goodwill tends to have policies and regulations on the type of household items they accept. For example, Goodwill won´t take anything that isn't in saleable condition.
Items that are in poor condition leaves the organization with the difficult task of handling or disposing them of. That said, Goodwill does take tables. These include coffee tables and dining tables. Ensure you´re donating furniture that´s in good condition without stains and scratches. It also shouldn't be broken in any way.
Other places to donate tables
If you want an alternative to Goodwill, there are a few other charities that will welcome you with open arms your furniture donation. Check the list below for other charitable organizations that will likely take your old table.
The Salvation Army
With over 150 years in operation and a presence in more than 131 countries, the Salvation Army is among the most respected non-profit organizations in the U.S.
They have programs aimed at helping people with all kinds of needs such as poverty, homelessness, hunger, human trafficking and so on. Funds for these works come from donations that are sold at their thrift stores at modest prices. In that case, furniture donations such as coffee tables, end tables and dining tables are welcome.
Habitat for Humanity
Habitat for Humanity is another non-profit that's focused on building decent homes for families in need. They have volunteers actively involved in order to build as many homes as possible. Furniture donations including tables are accepted and sold at Habitat ReStore. End tables and coffee tables will be highly appreciated.
The proceeds go towards the construction of new homes or repairs on the old ones. The organization also helps vulnerable families become financially stable even as they move into a newly constructed home. Call your local Habitat ReStore to schedule a furniture pickup.
The AMVETS
AMVETS is a national service foundation that supports local veterans as well as their families. There is a lot that they do for the veterans like ensuring they have access to better medical services, jobs, therapy for those suffering from PTSD and other forms of assistance.
AMVETS takes donations and sells the items in their stores to generate funds for various works. Among other things, they´ll happily take a strong, gently used table. Pickup services are available but you´re required to schedule it via phone or online.
The Arc
The Arc was established back in 1950 with the intention of helping children and adults who have intellectual and developmental disabilities. Their work involves advocating for their complete inclusion in society through access to information and proper skills.
They have over 600 chapters in the United States, and you can donate to any of them. Your donation will fund their independent living and academic programs.
Go to the Arc official website for guidance on the type of furniture that's accepted and whether you´ll be able to plan a pickup with the local chapter.
Furniture Bank Network
Furniture Bank collects unwanted furniture and redistributes it to disadvantaged families. They also work with other charity organizations to ensure donated furniture will reach the hands of those who need it.
There are people who really can't afford to buy their own furniture and would gladly take a gently used table. Keep in mind, any donation made to Furniture Bank will not go in vain and in fact, helps the poor, the unemployed, immigrants and battered women live comfortably. Check their website to see if they have a location near your area.
Final Thoughts
Tables are just one of the many things you can donate to Goodwill. As long as your item is in decent shape, Goodwill won´t have a problem accepting it. And if you´re looking for any other options, we´ve talked about charities that welcome furniture donations.
Thanks for your feedback!