A hot tub is a popular choice for relaxation and entertainment because It makes a home feel more welcoming and is a perfect addition to any backyard. However, with popularity comes a lot of maintenance. Now that you've decided that your hot tub needs to be replaced, what do you do?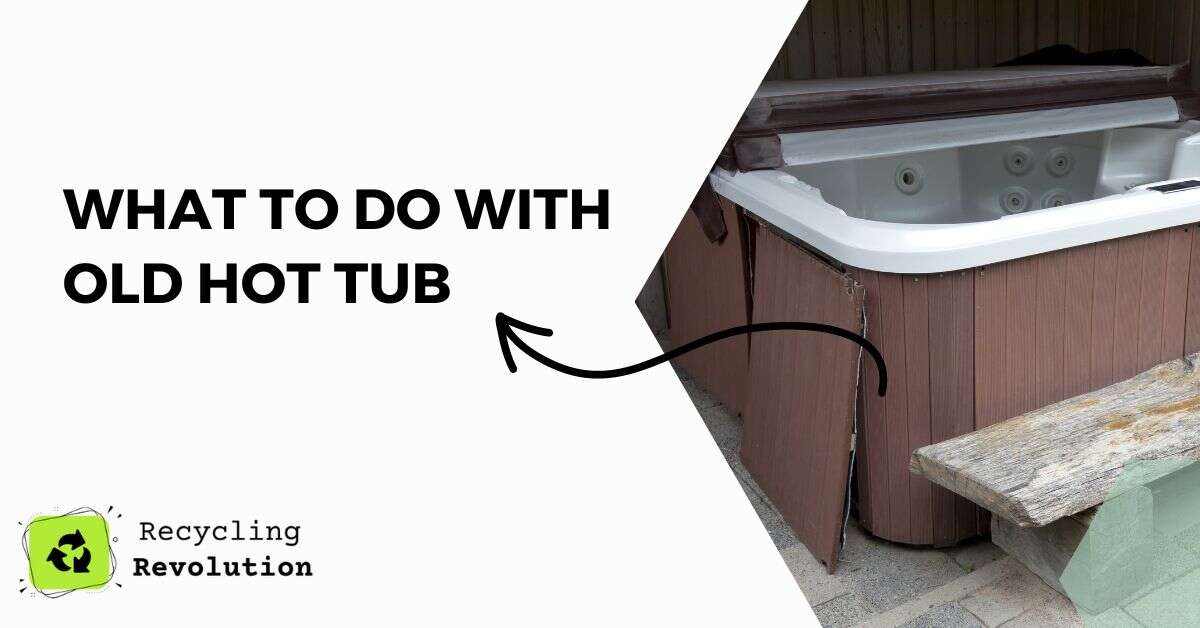 Rather, do you have any ideas on what to do with your old hot tub or will it end up in the dumpster? With so much environmental awareness, there are many ways that you can repurpose your old hot tub and do your part to lessen the burden on our landfills.
Thankfully, we've got some tips that will help in preserving the world's resources and keep your hot tub from becoming a visual eyesore.
What to do with an old hot tub
Nowadays, many homeowners opt to include a hot tub in their backyard. While this can be a great way to kick back, it also adds onto the maintenance of the backyard's features and of course, its appearance.
A nice hot tub can really make your home stand out and add to the value of your home both inside and outside. However, its lifespan is a lot shorter than the other fixtures and amenities of your home.
As time progresses, you'll have to replace your hot tub for a newer model. So instead of just getting rid of it, here are 6 ways that you can repurpose it and extend its lifespan.
Create a gorgeous fountain
A beautiful fountain can be a great addition to any yard. It adds ambience and character and it can serve as a focal point of your backyard.
And if you turn your old hot tub into a fountain, you'll create a centrepiece that will be the envy of your neighbours! Moreover, you'll end up using way less money than you would if you got a brand-new one.
A small pump at the bottom should do the trick and create a majestic fountain. Of course you'll be required to maintain the cleanliness of the fountain to keep it running smoothly.
If you're seeking a large fountain, then you'll need to get a hot tub with a larger diameter to accommodate the pump and water flow. Allow your creativity to take over when it comes to the design and decor of your fountain.
Rather than going with a set design, you can decorate your fountain with whatever you want! You can add a bit of greenery or decorative elements to support the look and feel of your water feature.
Make an incredible fishpond
Speaking of ponds, did you know that fish ponds are great for the environment? A lot of homeowners are starting to opt for them because they can serve as effective mosquito repellents and they're just so pleasant to look at.
Besides, who doesn't love a good-looking pond in their yard? A pond will add a nice touch of nature and freshness to your property.
If you have the space, consider creating a small water feature with your old hot tub. However, since you're repurposing it, keep in mind that it's no longer as sturdy as before.
You'll have to reinforce it tremendously or else it won't hold up. For a more natural feel, add the pond koi fish, goldfish or even a small turtle such as a red-eared slider.
If you're looking for a cheaper and more natural option, consider hosting koi fish or goldfish in your pond. Adding them in will give your pond an amazing appeal and add to the natural sights and sounds of your garden.
You can also include a small turtle such as a red-eared slider to give your pond more character. They're extremely easy to care for so you won't have to worry about them being too much trouble.
Turn it into a garden
Growing your own fresh vegetables, herbs, fruits, and flowers can be extremely rewarding. For one thing, you'll be consuming healthier and fresher food, you'll lower your carbon footprint and you'll save a lot of money! However, it can be extremely stressful looking for space to plant everything.
If you want to go the route of herb, vegetable or flower gardens, then repurposing your old hot tub is a great way to make use of that wasted space.
You can even turn it into a beautiful planter! If you have the space, take this opportunity to start growing your own.
All you need is soil, some seeds, and water and the rest is history! With a bit of effort, you'll be able to turn your old hot tub into a beautiful garden and allow the local birds, bees, and worms the chance to feast on some of your homegrown goodies.
Place the hot tub planter in a sunny spot in your garden so that your plants can receive enough sunlight.
Be sure that the water will drain from the tub and fill it with only the appropriate amount of soil.
Sell it
If you're not ready to spend the time and effort that it takes to turn your old hot tub into a garden, then selling it can be a good alternative. You'll get less money for it, but you won't have to pay for the shipping costs or other expenses that come with getting rid of an item.
Selling it is also hassle-free as you can list it on the internet and find a buyer who will bring it over to their home. However, before you sell it, keep in mind that your hot tub will have to be completely drained to ensure that it's completely drained of water.
Also, disinfect it thoroughly to remove any contaminants that can affect the buyer. Make sure that you include some pictures of your hot tub to show buyers its condition.
It shouldn't have any undisclosed damages or leakages. If you haven't sold your old hot tub yet, then you'd know that it's quite a hassle finding a buyer and looking for ways to transport it to its location.
However, it's still worth the effort since it will bring in some cash. In fact, some people are able to get 50% of the original price tag on the hot tub.
All you need to do is provide them with a detailed description of it and take some good pictures to provide insight into its condition and appearance. Don't forget to check the shipping costs for your hot tub before listing it for sale.
Turn it into a dog house
The truth is most people own a dog or some other pet. Dogs are claimed to be "man's best friend" and they're also known to be one of the greatest forms of companionship that a person can have.
They're loyal, loving, and great for playing fetch! In that case, dog owners can certainly relate when they find themselves approaching their local pet store to invest in a dog house. Now, you can save money on the dog house by simply repurposing your old hot tub!
The hot tub would be perfect for this project because it's spacious enough to provide shelter for your pet and it can guarantee good insulation during colder months. Just flip it upside down and make a door and windows. If you'd like to make it look more attractive, add some decorative artwork on the side.
You can also paint the hot tub with bright colors that will make it pop!
Call a professional junk-hauling company
If you're not quite sure how to repurpose your old hot tub and find that it's not a good fit for your property or you just don't have the time to mess with it, then call a junk hauling company for removal services.
Let them help you get rid of the hot tub so that you don't have to lift a finger. This is also a great alternative when repurposing it isn't an option for some reason. Landfills are increasingly becoming overwhelmed with all sorts of trash. This is fueled by the steady increase in municipal solid waste.
As a result, there is a growing effort to keep our environment clean and lessen the amount of trash that ends up in landfills. Do your part to help keep our planet clean by disposing of your unwanted hot tub the right way.
This is where the junk hauling service comes into play. They can simply come by your house, pick up the hot tub and haul it off to the nearest recycling facility.
Call a junk hauling service and they'll do all the work for you.
They'll obviously charge a small fee for the removal services, but in the end, you'll be happy that you didn't have to do anything.
Conclusion
If your old hot tub is no longer being used, then it might be time for you to decide what to do with it. Whether you're looking for ways to repurpose it or need help getting rid of it, there are a few options available to you.
The most important thing to have in mind is that recycling is the preferred way to dispose of it.
Take these tips into consideration and you'll be able to get rid of your old hot tub in no time at all.
It may not be easy since some people will have a difficult time figuring out what to do with it, but the satisfaction of being an environmentalist will make the effort worth it.
FAQs
Can hot tubs be dismantled?
Hot tubs can be dismantled, but they should be dismantled properly so that they don't lose their shape.
You need to dismantle it yourself, so you'll need some tools like a screwdriver and a wrench.
Consult your owner's manual on how to dismantle the hot tub before starting.
Can I cut up an old hot tub?
Yes, but first detach all electrical and gas connections.
Then, use a saw to cut it into pieces that can then be recycled.
What can I use an old hot tub for?
The most common things that people use old hot tubs are buying new ones and turning them into garden planters.
You can even use it as a dog house.
The options are many, so you can choose depending on your needs.
Thanks for your feedback!