There's no better way to get organized than with a little DIY action, and old dresser drawers are the perfect candidates for this kind of project! Today we're going to show you how to give them new life.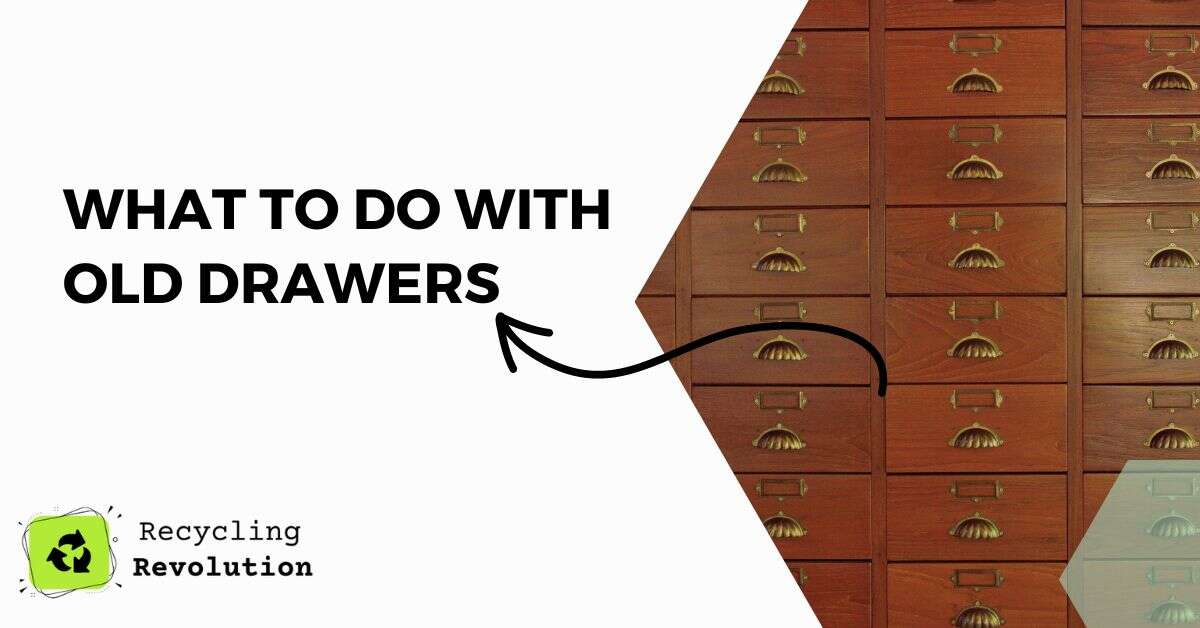 At one point or the other, we all have old drawers that we no longer need. The problem is we're usually left with the burden of figuring out what to do with the old drawers. Throwing them out feels like a major waste and it's not very environmentally friendly either.
While there are a lot of environmental measures we can take to avoid waste, it can be hard to keep up with them all.
That's why reusing old drawers is often the best option.
Among the current trends of today is upcycling and repurposing of old items. It's sustainable and saves a lot of resources compared to simply discarding the used items.
In this case, the old drawers could become timeless décor pieces. Now, repurposing old drawers is relatively simple.
All you need are a few items and a little creativity.
It doesn't cost tons of money either! So let's get started on what you should do with those old drawers lying in wait.
What to do with old drawers with 12 amazing ideas
While you might think it's junk, dresser drawers are actually treasured in more ways than one.
We've done a little bit of research to find 12 amazing ways to make use of your old drawers.
Organize your jewelry
For most people, their jewelry is the most valuable part of their wardrobe. That's why it's critically important that all the jewelry is organized in a way that it's easy to find and won't damage them.
For example, you might want to store your most expensive pieces in a place where nobody can touch them. One way you could do this is by turning your old drawers into jewelry cabinets. Simply flip it on the side and put small storage compartments inside.
Attach it on the wall of your bedroom or the bathroom and place your jewelry in it.
Clothes compartments
Another great way to make use of old drawers is by turning it into clothing storage. You can DIY a whole set for your clothing out of the drawers, or you could just choose one drawer to get started with.
For example, instead of storing clothes in folded piles in your closet, use dresser drawers instead! It'll give you more room for clothes and it'll keep them from getting wrinkled. Also, if you have a large number of clothes, then you could organize them according to color.
Place your most used clothes in the front and arrange the rest in order of usage.
Designer drawers
Some drawers are simply too nice to be thrown away! If you have old dresser drawers in your house then chances are it's a classic piece that's highly valuable.
If you've ever shopped for antique furniture, then you already know how costly it can get. Instead of letting them gather dust in a corner, why not give it a new lease on life?
This idea involves gluing some pretty design elements on the drawers. You can get creative and make a statement piece out of an otherwise boring dresser drawer! For example, you could use wallpaper or decals to cover the front side of the drawer.
Or perhaps you could use cut-outs from magazines to make a cool pattern on it. Whatever you choose, it doesn't matter what you do – as long as it makes your old dresser really stand out!
Storage Ottoman
A simple idea that you can use to give your dresser drawer a new lease on life is by turning it into an ottoman. Ottomans are popular in today's homes since they function as an essential storage option.
They're also remarkable when it comes to relaxation and often introduce certain style elements in people's living rooms and bedrooms. You can transform your dresser drawer into an amazing and stylish ottoman. By doing this, you'll make a storage area underneath where you can stack stuff.
And for the beauty-conscious, you'll also be providing a nice spot for your toes to rest.
Dog bed
According to recent reports, having a pet can be great for your health. If you want to make your dog feel comfortable at home then you should definitely buy him or her the best bed possible.
Instead of buying a brand-new bed, why not just turn one of those old drawers into a pet bed? It should be more than comfortable for your pup and it will give them a nice place to relax in during the day.
You'll have to consider the size of your pet when you're deciding on the ideal dimensions for the pet bed. It should be big enough that your pet can sleep comfortably inside and that it doesn't take up too much space in your home.
For smaller dogs, it would make more sense to use a smaller but more comfortable drawer. However, for larger breeds, you should go for something that's large enough for them to comfortably stretch their legs in.
It's best to measure the length and width of your pet and create the perfect-sized drawer.
Add some bedding and you'll have on hand a high-end and functional dog bed.
Plant Stand
If you're a nature-lover or you simply want to make your home eco-friendly then you should definitely plant some flowers and plants. It's great for your health and makes your home more refreshing to be in.
The problem is, there's only so much you can plant! That's why repurposing old drawers is a good idea. By turning it into a planter for growing fresh herbs, you can easily make use of the space you didn't use before.
You'll have a nice place to put some herbs and enjoy the wonderful smell it exudes. Whether it's for indoor or outdoor use, it doesn't matter – as long as you have a planter then you're good to go.
Drawer bookshelf
While some people believe that reading a book is quite a boring activity, it's actually quite relaxing! In fact, some of the greatest thinkers in history have read constantly throughout their lives.
Some even claim that reading a book has changed their lives. If you love books then you'll know that it's not always easy to find space for them in your house.
That's why repurposing old drawers into a bookshelf is a good idea if you want to enjoy books anytime. In this case, stack a set of drawers on top of each other and use them for storing your favorite books.
A fresh coat of paint and a few decals can give your new bookshelf a new life, so use them to turn it into a really functional bookshelf.
Make floating shelves
Floating shelves are not only functional but also a great style feature. A few floating shelves can easily transform a room and add a fresh look to the rest of the house.
You can allow yourself to be really creative when you're making these shelves. For example, instead of using solid wood pieces, you could use old drawers as the shelf itself or recycle the wood! All you need to do is use some materials to attach it on your wall and you've got yourself a really cool floating shelf.
Paint and decorate it to match the rest of your house and you're good to go. It's a simple idea that'll look great in any room.
You can easily use this idea to turn useless drawers into something useful, beautiful, and cozy in your house.
Under bed storage
There can never be enough storage space in any house. If you have drawers that you're about to toss away then you should think about turning them into an under-bed storage solution. This way, you'll be able to make the most out of your bedroom space by using every possible inch to store things.
This will work well if you've got several spare drawers that you don't know what to do with.
After all, there must be at least one drawer that you're willing to sacrifice! You can attach them together and create a functional storage space underneath your bed.
If you want something more stylish then why not make a small niche under your bed? You can design it in such a way that you have some shelves in the niche and use some lower drawers to contain other objects.
The design is completely up to you, so get creative and you'll soon have an under-bed storage space that can be used for many years to come.
Make a sandwich station
If you're into cooking then you'll know that preparing the ingredients for your meals can be time-consuming.
Slicing the vegetables and chopping the herbs is not only difficult but also repetitive, too. If you want to make life a lot easier whilst getting fresh ingredients then you should turn one of those old drawers into a sandwich station.
Hang it on a wall in your kitchen and stack it with ingredients that you're likely to use in any given day. It'll be a lot easier to prepare a sandwich when you have the ingredients in the drawer and you don't have to keep running back and forth to the pantry.
Create a fairy garden
Outdoor enthusiasts and gardeners will know that you need to prepare well in advance. By doing this, you ensure that the garden will have a good supply of fresh foods and flowers. There are always a lot of odds and ends lying around the house that can easily be used for creating an eye-catching fairy garden.
You can install it right outside your house and use it as a way of adding some color to your lawn or driveway.
It'll also be a great way of reminding you to have fun and relax. Just imagine how beautiful it will look with a few dwarf trees and some miniature flowers all around the garden.
You should use old drawers to contain all the herbs, leaves, flower pots, and other odds and ends. It will certainly add some freshness to your home.
Make a shower caddy
If you love taking long showers then you'll know how annoying it is to have to keep stepping out of the shower to look for your soap or shampoo.
There's always someone else in the bathroom and they keep on using your stuff! So it's best to just make your own shower caddy that can carry all the stuff you need in one place.
That way, you can just keep it on the side of the bathtub and use it as needed. You might need to drill a hole in the wall before you install it but you can easily hang it in the shower. This is a great idea if you have several bottles of shampoo or other products and want them to be easily accessible in your shower.
Final Thoughts
There are plenty of ideas on how you can repurpose old drawers and make them look great again! It doesn't matter what kind of old pieces you have, as long as you get creative and let your imagination run wild then you'll be able to transform those useless drawers into useful and interesting items.
It's a great way of making your home feel cozy, stylish, and organized. You don't have to worry about having too little storage space because you can easily repurpose old drawers into things that you really need.
And if you want something more stylish than the everyday stuff then try repurposing old drawers as a new way of organizing items in your home.
It'll give it a fresh new look, and you'll surely want to use it all the time.
FAQs
How do you recycle a chest of drawers?
Your local waste management center offers a variety of programs, from special curbside pick-up to drop-off recycling locations.
Have your chest of drawers collected along with the rest of your trash. They'll recycle it for free, as long as it's free of hazardous materials.
You may be able to take your chest of drawers to a local drop-off location, such as Staples or Best Buy.
To find the nearest drop-off locations use the recycling locator tool on Earth911.
How do you reuse a drawer?
Reusing old drawers is as easy as repainting them. You can also opt for decorative hardware and a new handle to give that shabby chic look.
Use it as a porch planter, a bathroom shelf, a jewelry box, and much more.
Have fun with it and use your imagination!
Thanks for your feedback!