Does Salvation Army take books? There is something about books that is just so tangible. A person can see them, feel them, and enjoy the smell of new pages.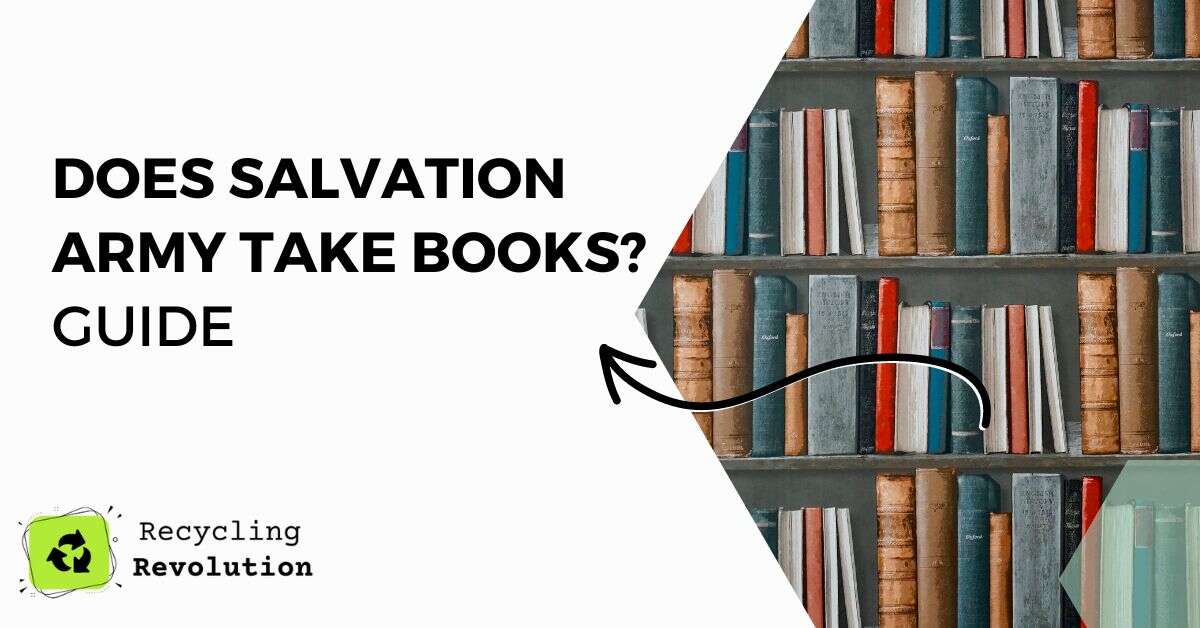 Books can actually change lives and they cover a wide variety of topics and genres. However, sometimes we have too many books that we don't really need. If you have an overstuffed bookshelf, you may find yourself with some extra books.
Perhaps you've collected old books from family members or as gifts over several years, and they are just taking up space in your house. Well, it's time to donate them and allow someone else the opportunity to enjoy them.
Can you donate books to Salvation Army?
Salvation Army has a history of providing assistance to those in need. They feed the hungry and help with disaster relief throughout the world. This organization strives to be as self-sufficient as possible and relies on your donations to help them do this. Every avid reader has a massive collection of books that would be great to donate to the Salvation Army.
However, you may be wondering if they even accept donations of books. The answer is unequivocal yes. Salvation Army accepts all types of books provided they are in good condition and have not been damaged in any way. They take both hardbacks and paperbacks.
One huge benefit of donating your books is that you get a charitable tax deduction on your taxes for doing so. This is because, in most cases, all organizations can take your donations as tax-deductible contributions.
Other than that, you'll be sharing the knowledge of your favorite authors and reading favorites that others may not have read yet. Doing some research on the books you want to donate to ensure they will be of interest to the Salvation Army is always recommended.
Head over to the Salvation Army main page and find a location near you. You can then drop off all of the unwanted books you want to donate. They accept books on a walk-in basis and can even give you a receipt for your records as well. Salvation Army also has a page where you can fill out an online form with all of the details of your donation to make it easier.
The Types of Books They Accept
| Type of Book | Goodwill Acceptance |
| --- | --- |
| Hardcover Fiction | Yes |
| Softcover Fiction | Yes |
| Children's Books | Yes |
| Textbooks | Yes |
| Cookbooks | Yes |
| Self-Help Books | Yes |
| Biographies/Autobiographies | Yes |
| Travel Books | Yes |
| Religious Books | Yes |
| Vintage Books | Yes |
| Magazines | No |
| Encyclopedia Sets | No |
| Damaged Books | No |
But if you don't have the salvos near you then here are some other ways to get them in the right hands:
Where else can you donate books?
There are a number of other organizations that are also interested in books. If you want to donate to other charities as well, we have a couple of suggestions to keep in mind.
Better World Books
Better World Books is a for-profit organization based in the US and UK. They are dedicated to providing resources for the public that promote literacy. They collect and sell used and new books online. The proceeds from the sale of these books are donated to literacy development charities and education initiatives. So, they aren't exactly a charity, but they are definitely a good initiative. You can donate any books you want to this organization via their drop boxes located across the country.
Books for soldiers
Books for Soldiers is an organization dedicated to supplying our US soldiers with reading materials. They do provide books to soldiers in war zones and that's a good thing. This organization is another good idea if you want to donate books as they are a great cause.
All you have to do is sign in to a database and you will get book requests from the soldiers themselves. The program encourages people of all ages and backgrounds to contribute reading materials for those in need. It's an opportunity to donate any old books you might have sitting around your house.
Books for prisoners
Incarcerated individuals need reading material just as much as college students. If you want to share the love of reading with prisoners, there are a number of ways you can do it. Books to Prisoners is one great option that helps you donate books directly to prisoners in need.
This organization accepts new and used books, magazines, and literary journals. Check recommendations and current needs before you donate though.
Books for Africa
If you have an interest in helping to provide reading materials to those in Africa, Books for Africa is the organization for you. You can donate books and supplies to literacy programs in Africa or you can donate funds to support these literacy programs.
You will be empowering students who have a passion for reading to develop new skills and enjoy the reading experience. You can donate books to Books for Africa in a variety of ways. Either drop off your donations in person or mail them to their address.
Pajama Program
This program is designed to support kids in unstable living conditions such as those in shelters and group homes. The kids receive a book to keep on their nightstand and the goal is to encourage them to read more. These help them to feel safe and loved.
It's a great program if you want to donate books. The goal of the Pajama Program is to get books into the hands of children in need so they can enjoy them at home.
Final Thoughts
Donating books can make a huge difference. The Salvation Army and other organizations that accept books will provide them to people in need. You can even donate them to literacy programs or schools. It is always a good idea to do some research before you make a donation, but do it regardless!
FAQs
Where is the best place to donate books?
Some of my favorite charities to give books to include Books for Soldiers, Books for Africa and Better World Books. Books for Soldiers is a fantastic organization that delivers books to soldiers in our military deployed overseas.  The other two organizations both support literacy and enjoy new or like new books.
What do Salvation Army do?
They offer assistance and relief to people in need. Salvation Army provides housing, food and clothing for those who need it most. Salvation Army rehabilitates houses that are in foreclosure as well as providing a number of other services for struggling citizens in communities across the United States.
Thanks for your feedback!