There's a lot of confusion out there in the world: what do people think is worth donating, and what shouldn't be? When you're thinking about donating your old TV or other electronics to charity, you might be surprised to learn that some products are not accepted at all, or only under certain circumstances.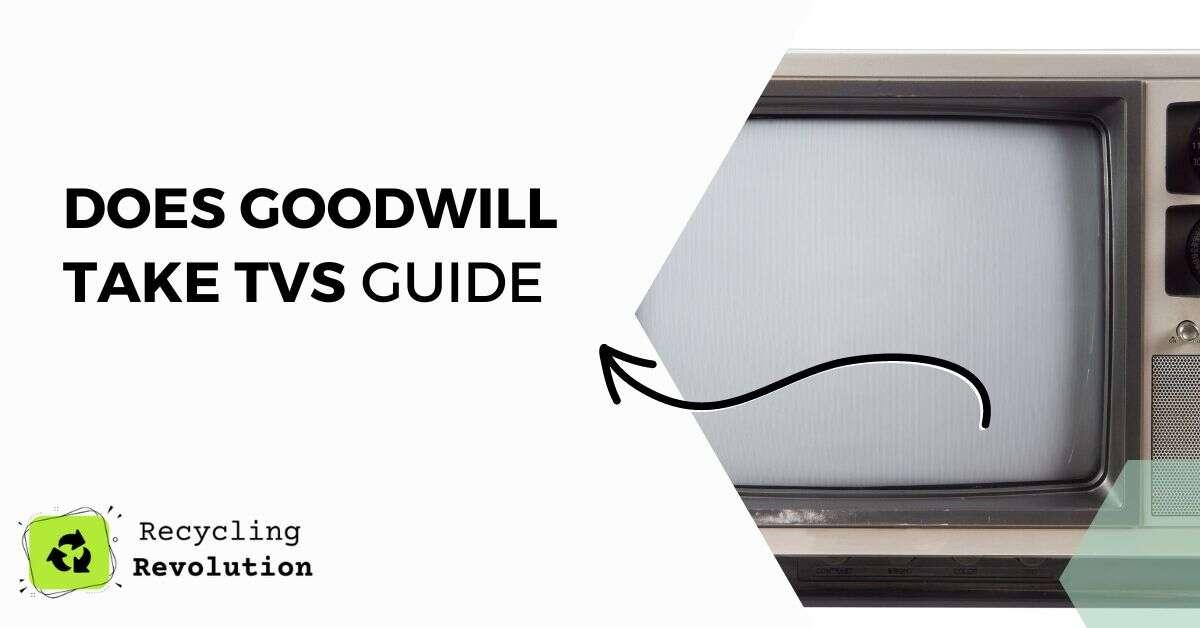 In that regard, does Goodwill take TVs? With many new TV models hitting the market every other month, some people are compelled to upgrade from their old sets.
This means you're left with a perfectly good television that isn't really needed in your home. Donating it will definitely come to mind but you might not be sure whether or not your local Goodwill will accept the item. So, is Goodwill a good place to donate your TV? Stay tuned for the answer below.
Will Goodwill accept all Types of TVs?
Most of us are well aware of Goodwill. It's an organization that supports the disabled, homeless, and those in poverty by accepting donations of household items. These are then sold at its stores to raise money for its charitable programs. But although most people donate things like clothes, furniture and other household items, you might be surprised to learn that Goodwill doesn't accept some electronics.
Does Goodwill really take TVs? Yes, Goodwill does accept TV donations. With that said, they only take flatscreen TVs in working condition. This means no CRTs (tube sets), and broken or damaged sets. The reason behind this is that Goodwill has a limited space for donations. As a result, they only make room for working TVs.
They also have to sell the TVs at a reduced price. It will definitely cost more to repair or refurbish a broken TV set than the price they can sell them for. Many charities have limited storage space for donations, so they tend to turn away items that are not of immediate use to them.
If you have a flatscreen TV that's still working and in proper condition, you can donate it to Goodwill. They will be able to use it for their fundraising, which ultimately helps them help those in need. There's no need to let it collect dust in a corner somewhere when it can be put to good use by helping people. You might even earn a tax deduction by donating old tech items. Check with your local Goodwill to find out how much you can deduct.
Other suitable places to donate TVs
Sometimes you might want to donate your TV but Goodwill is not an option. Don't be discouraged; there are other places that will gladly accept donations of working TVs. Goodwill is just one of many charities that accept electronic donations.
Other places like donation centers and non-profit associations will also gladly accept any working TV set as well. We've listed some of the top places where you can donate your TV below.
The Salvation Army
The Salvation Army is one of the largest charities in the country. As a religious organization, they are dedicated to helping those in need by providing them with food and shelter, among other things.
Because of their big-hearted nature, you can be sure that The Salvation Army will accept any working TV set you wish to donate. For more information about where you can drop off your donation or to find a location near you, just visit their website. The Salvation Army also accepts donations of clothes and furniture as well as electronics.
Habitat for Humanity International
Habitat for Humanity is another great charity you can donate new or used TVs to. This organization was created with the goal of building homes and communities for those who cannot afford one. One way they raise money for these projects is by selling donated items to the public.
Since TVs are among some of the most popular items donated to this non-profit, there's a high chance that your old TV set will find a new home. You can check to see if there is a Habitat for Humanity near you by visiting their website. Also, contact them first to check whether they'll accept your donation or not.
Children's hospital
Some of the best TV donations are making their way to children's hospitals across the country. These institutions are committed to helping sick kids by providing them with quality healthcare. With that said, hospital's also need to keep patients entertained and calm.
This is why they accept TVs and other electronics like computers, video game systems, and DVD players. If you're donating a TV that's still working and in good condition, then donate it to a hospital that will be able to use it for the benefit of kids in need. Unfortunately, not all donated electronics are accepted. So check with the hospital first to see if the item will be accepted.
Homeless shelter
If you're looking for a worthy place to donate your old TV, then why not try a homeless shelter? This is one of the most under-funded organizations when it comes to collecting donations.
Many people don't stop to think that homeless shelters need things like TVs just as much as other organizations. So if you have an extra TV lying around or want to get rid of it for a tax deduction, then donate it to a shelter and help make the lives of those less fortunate just a little better.
Final Thoughts
Donating your TV to Goodwill is a great way to help those in need. If you have an old TV that's no longer needed in your home and will be taking up too much space, then it might be time to think about getting rid of it. So if you want to donate a TV set, make sure the TV is in working condition or else you won't get much out of it but an item that needs repairing. Other than that, Goodwill has different donation requirements depending on the location.
FAQs
Does Goodwill take TVs California?
Goodwill accepts TVs as long as they are in good working condition. This will only apply to flat screen TVs, such as LED or plasma sets. Don't ask if they take your old CRT (tube) TV sets because they won't.
Do I get a tax deduction if I donate my old TV?
Yes you do! You can claim a tax deduction for the amount you donated to both charities and non-profits that accept electronics donations.
Thanks for your feedback!