When you want to donate something, one of the charitable organizations that come to mind might be Goodwill. If you had a spare rug, though, you might not know where to take it. Generally, it's not prudent to donate clothing or furniture that isn't in good shape.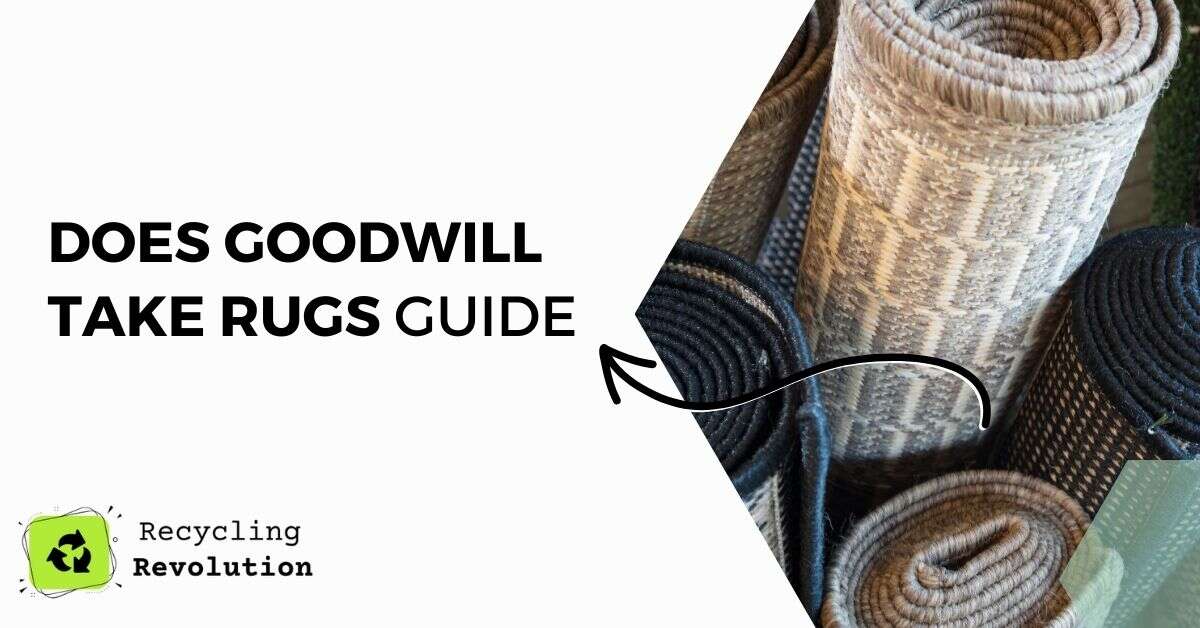 That said, there are certain things that Goodwill will accept from its customers. So, does Goodwill take rugs? What types of things can Goodwill take? And how do you get ready to donate something to Goodwill? Well, this guide will let you know.
Can you donate rugs to Goodwill?
Goodwill is a non-profit organization with a goal to help people with a variety of needs. However, they mainly offer jobs and training to those who need them. Non-profits like this often don't want used items to clutter the store because they take up valuable storage space. The items they accept should be able to sell in their thrift stores. Despite this, Goodwill does accept used items. They just don't accept them all.
So, will Goodwill take your used rugs? Generally, Goodwill accepts rugs but they should not be covered in animal hair, mildewed, soiled, torn or stained. Goodwill prefers that the rug be cleaned, stain-free and odorless before it's donated.
The kinds of rugs they accept and what they don't accept:
| Accepted Rugs | Not Accepted Rugs |
| --- | --- |
| Area rugs | Rugs with mold or mildew |
| Hand-woven rugs | Rugs with excessive wear and tear |
| Machine-made rugs | Rugs with strong odors |
| Oriental rugs | Rugs with rips or holes |
If they were to accept your torn or stained rug, they would be responsible for cleaning it and repairing it if necessary. These tasks are time consuming and cost money. And when the item can't be sold, they're also responsible for its disposal. This means that Goodwill doesn't want to take something that would be too difficult for them to handle.
If your rug isn't damaged or stained, Goodwill is a great place to donate it. Rugs are stored in their thrift stores throughout the country. No matter where you live, there's likely a Goodwill store nearby that accepts donated items. You can also take your used rug over to your local charity shop and ask them to accept it.
Where else can i donate rugs?
Sometimes, people don't want to take their used rug to a Goodwill store. They would rather have someone else who can accept it for them. If this is the case, keep in mind that you can donate or recycle stuff elsewhere. It's up to you where you want your donation to go, but it's a great way to keep your old rugs out of the landfill. Here is a list of other places that would accept donated items:
The Salvation Army
Salvation Army is a great place for people to donate items to those in need. This includes used clothing and area rugs, too. The Salvation Army has many branches all over the country. They will take new or gently used rugs for people who need them.
And if a particular store doesn't have a need for your rug, they will send it to someone who does. Donations are tax-deductible and they can provide receipts upon request. If you have unwanted items that you would like to donate, you can either donate them through your local Salvation Army or drop them off at one of their locations.
Habitat for Humanity
Habitat for Humanity is a charitable organization that builds homes for those who can't afford them. They build houses through fundraising and volunteers. They work with people from all walks of life, including those who have disabilities and homelessness.
In addition to offering shelter, they also provide job training to those in need. You can donate your area rugs to this organization. However, they should not have any visible signs of wear, tear, stains or pet hair.
Savers
Savers is committed to keeping all kinds of things out of the landfills. Through its recycling and up-cycling program, they collect and reuse items for new purposes. You can donate used rugs to Savers and they will recycle them into new rugs, flooring and more. That said, the rugs should be clean and in decent condition.
If the rugs are too worn or damaged, Savers won't be able to turn them into something new.
AMVETS
AMVETS is another organization that helps the community through donations. Founded back in 1936, they are a non-profit group that assists veterans and their families in need of financial aid, healthcare and housing. In addition to helping veterans, they also assist their families, as well as provide funding for other causes like disaster relief.
The AMVETS accepts donated items like rugs from all over the country and sells them in their thrift stores.
Final Thoughts
If you have an old rug that you don't want, there are plenty of places to donate them. Goodwill does accept rugs and other items that are in decent condition. The other organizations on this list will also accept your donations if Goodwill can't. You can also recycle items or donate them to a local charity shop.
FAQs
What items does Goodwill accept California?
Some of the items include furniture, clothing, flat screen TVs, fine china, books, computers, stereo systems, and many others.
Does Goodwill take rugs Oregon?
Goodwill accepts rugs in mint condition. They will carefully inspect the rugs and determine if they can sell them or if they need to be disposed.
Thanks for your feedback!