Goodwill Industries is a nonprofit organization that aims to provide job training, employment placement services, and other community-based programs for people who face barriers to employment. By donating unwanted items to Goodwill, you're not only decluttering your home but also contributing to a greater cause.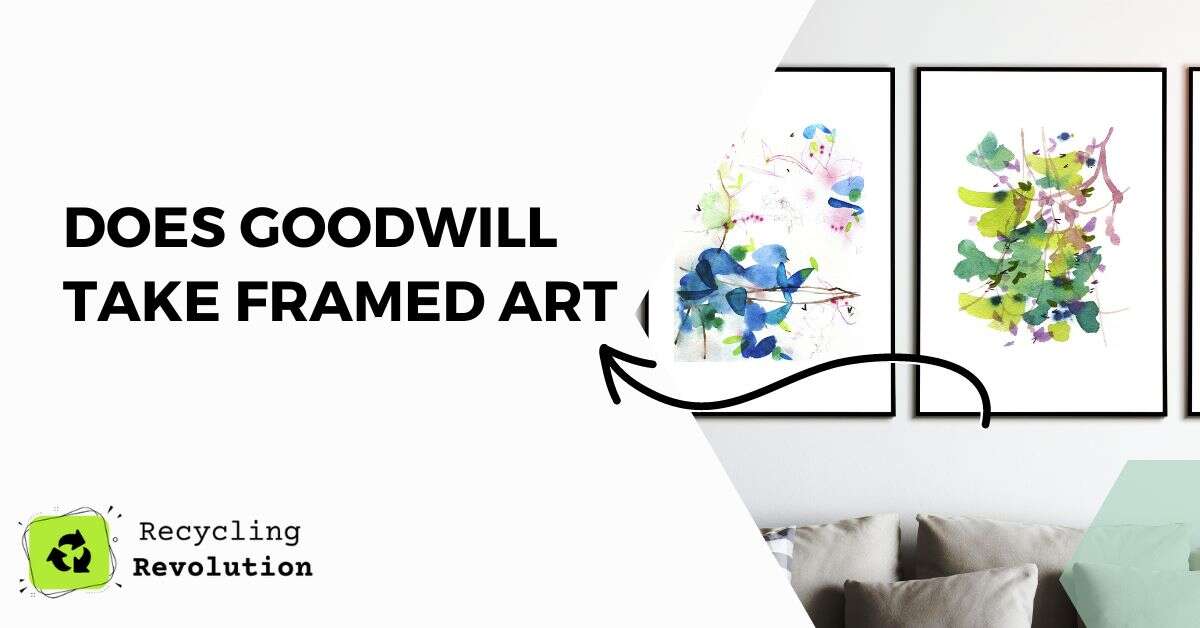 Importance of donating unwanted items to Goodwill
Donating items to Goodwill not only supports their mission but also promotes sustainability, reducing waste in landfills and conserving resources. This article will focus on framed art as a potential donation item and guide you through the process of determining its suitability for Goodwill.
What Does Goodwill Accept?
Explanation of Goodwill's general donation guidelines
Goodwill accepts a wide range of items, from clothing and household items to electronics and furniture. However, they have specific guidelines to ensure donated items meet quality and safety standards.
Categories of acceptable items
Accepted items generally fall into categories such as clothing, accessories, household goods, furniture, books, toys, and electronics.
Specific mention of artwork and home decor items
Artwork and home decor items, including framed art, are accepted by Goodwill. However, there are certain factors to consider when donating framed art.
Table of Different Kinds of Framed Art Goodwill Accepts and Doesn't Accept
| Accepted | Not Accepted |
| --- | --- |
| Landscape and nature scenes | Explicit content or offensive imagery |
| Portraits and people scenes | Artwork in poor condition |
| Abstract art | Oversized or bulky frames |
| Still life art | Copyright or trademark infringing art |
| Art prints | Art containing personal information |
Factors to Consider When Donating Framed Art
Condition of the artwork
The artwork should be in good condition, without significant damage, tears, or stains. Artwork in poor condition may not be suitable for resale.
Relevance and marketability of the piece
The subject matter and style of the artwork should have broad appeal, as niche or controversial pieces may not find a buyer in a Goodwill store.
Size and space availability at Goodwill stores
Large or bulky framed art may be difficult for Goodwill stores to accommodate due to limited space. Call ahead to confirm if your local store can accept larger pieces.
Legal restrictions on certain types of art
Works containing explicit content or items infringing on copyright or trademarks may not be accepted by Goodwill.
How to Prepare Framed Art for Donation
Properly cleaning and dusting the artwork – Before donating, clean the glass and frame to ensure the artwork is presentable and ready for resale.
Removing personal information or identification from the frame – Remove any labels, names, or contact information from the frame to protect your privacy.
Safely packaging and transporting the artwork – Wrap the artwork in protective materials and secure it in your vehicle to prevent damage during transport.
Alternatives to Donating Framed Art to Goodwill
Local art organizations or galleries – Some art organizations or galleries may accept donations of framed art for exhibitions or charity events.
Schools or community centers in need of artwork – Consider donating framed art to schools, community centers, or other public spaces to enhance their aesthetic appeal.
Online platforms for selling or trading artwork – If your framed art has significant value, consider selling or trading it on online platforms such as eBay or Facebook Marketplace.
Contacting Goodwill to Confirm Donation Acceptance
Researching local Goodwill locations and their policies – Look up your local Goodwill location online and review their specific donation guidelines.
Calling or visiting Goodwill to inquire about framed art donations – Reach out to your local Goodwill to confirm whether they accept framed art and any associated size or subject matter restrictions.
Obtaining any necessary documentation or receipts – When donating, ask for a receipt for tax deduction purposes or any necessary documentation.
Conclusion
In summary, donating framed art to Goodwill is a great way to support their mission and promote sustainability. Be mindful of the artwork's condition, relevance, size, and any legal restrictions. If Goodwill is not the best fit, explore alternative options such as local art organizations or online platforms.
FAQs
What can I do with unwanted framed art?
You have several options for unwanted framed art. You can donate it to a nonprofit like Goodwill, give it to a local art organization, school or community center, sell or trade it online, or even repurpose it for a new art project.
How does donating art work?
Donating art involves finding an organization that accepts art donations, ensuring the art is in good condition, removing any personal information from the artwork, and safely packaging it for transport. It's important to contact the organization ahead of time to confirm they accept art donations and to understand any specific guidelines or procedures.
How to do art for charity?
Creating art for charity can involve donating your own artwork to charitable organizations for auction or sale, volunteering to create art for charity events or programs, or teaching art classes for charity. Always check with the charity first to understand their needs and requirements.
Thanks for your feedback!