When we think of a film camera, the first thing that comes to mind is probably your old-school camera from back in the day.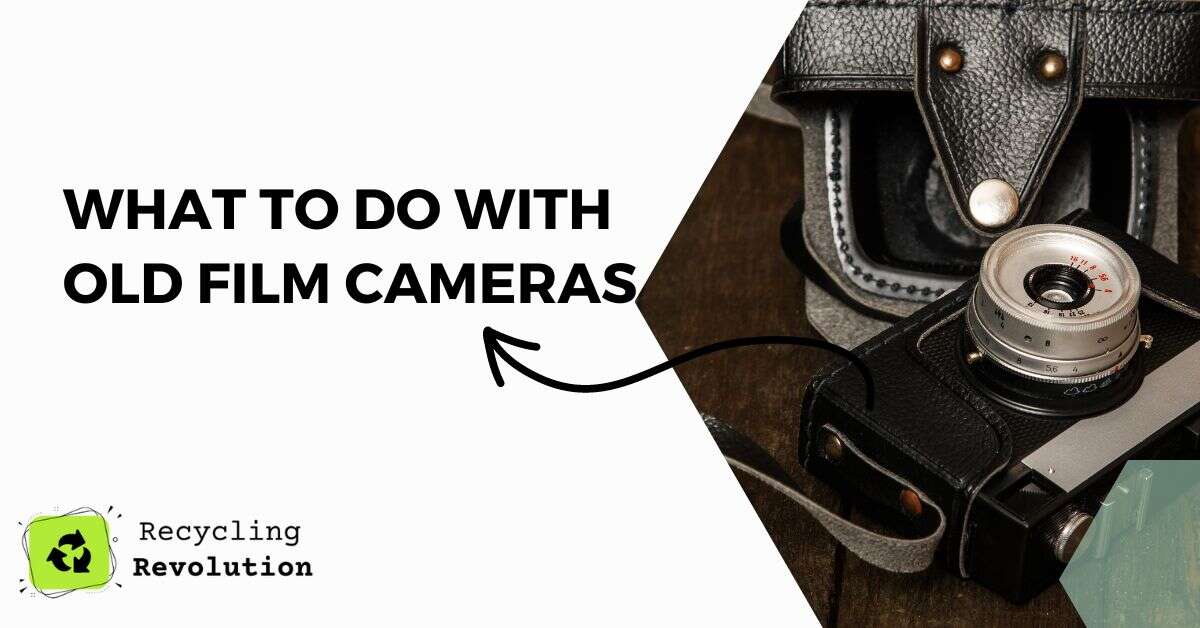 Maybe you still have it sitting at home, or maybe you've found it forgotten in a desk drawer where you left it when you upgraded to digital cameras.
Well, it's time to figure out what to do with that old film camera and take it out for a spin!
Technology is definitely not the same as it was back then, and a lot has changed including the way we shoot photos.
Nowadays, you'll barely find anyone who's still using a film camera to take snapshots.
Many prefer to use smartphones or digital cameras for their photography needs.
This shift means there are still millions of film cameras that are still sitting in drawers and attics all over the world.
What happens to these old relics of technology?
What to do with old film cameras
If you've been wracking your brain trying to figure out what to do with your old film camera, here are 12 ideas that may just help you give it a new lease on life.
Keep in case of emergency
This may sound silly, but think of your old film camera as a first aid kit.
It may be old and rusty, but it is still a working camera.
If you are ever stuck in an emergency situation where your smartphone and modern shooting devices fail, you'll have your film camera to fall back on.
So never throw away that old film camera! It could save your life one day.
Go ahead and preserve it in some safe place where it won't get damaged or lost.
It might just be what saves the day when everything else fails unexpectedly and you need to capture a photo or two.
Hold onto it for memories
The memories that come with your old film camera are priceless.
When you look back at the photos you've taken all those years ago, maybe you'll remember the day Auntie took that one cute shot of you on your bike or the night you went to see a friend's band play in your school and took this shot of your friends standing up front.
Maybe it will be the photos of your wedding day or first time driving on a specific road that always made you nervous.
Those are precious memories that no one can take away from you.
That aged camera will serve as a wonderful reminder of the good times in your life.
Use it for shooting
If you do decide to keep your film camera, you might as well use it for its original purpose.
Do you shoot with a film camera?
If not, what are you waiting for?
Give your old one a go and see if you still love to shoot with one.
If you do enjoy shooting with it, then that's even better! Remember, these cameras were the pioneers that paved the way for what's available today.
Perhaps you'll even learn something along the way that you can apply to your digital photography and improve it as well.
For instance, this may be the perfect opportunity to polish up on your creative eye as well as your composition skills.
Donate old film cameras to a school
If you are not a photographer by profession or just never got around to using a film camera, then what better way is there to put it to good use than donate it to a school or university?
You can donate film cameras and other photography supplies that will help improve the skills of students.
It doesn't matter if you are donating the whole set or just one camera.
Either way, you are showing kids and adults a good example of how important education is.
They'll need these cameras to learn and understand more about film development and photography.
Ask around to know the schools in your area that offer photography classes.
You can then arrange to make a collection of old film cameras that you can donate to the school.
It is a great opportunity for the students to learn more about photography and shoot with different types of cameras.
These will also be helpful to kids that can't afford the fancy digital cameras on the market but have an interest in learning how to take photos.
Donate old film cameras to a charity
You don't need to be a photographer to appreciate the good that film cameras and photo equipment can do.
There are many charities that collect and repair these old cameras.
They might not have the best technology but they will certainly help people in need of some help.
If you have a few old film cameras lying around, consider donating them to one of the many charities.
It will mean so much to someone else and it would also be a good way for you to do some good in this world.
One thing you should keep in mind is that it will be up to the charity to decide its fate once they receive your donations.
If they do not work well enough, they might end up destroying them as they are not worth repairing anymore.
After all, these cameras have been left lying around for years and have been forgotten by everyone.
Keeping them dust free and clean may be needed if the charities plan to repair them and use them as a tool for their social projects.
Organizations such as Recycling for Charities, NYC Salt, Disabled Photographer's Association, PhotoVoice, and Goodwill accept donations and will repair or reuse the equipment.
Give it to someone who can benefit from it
All those cameras you've kept in your attic or at the back of your desk drawer?
You might as well let those go to someone who can use it.
Sometimes, we get used to things and forget about their true value.
We forget that there are people out there who could really benefit from our old gadgets.
Give it to a child who's interested in photography.
Your gift may be the very thing that inspires them to pursue their interest in photography and follow a successful career as a photographer.
Sell it
Old is gold, as they say, and what you consider useless or worthless may be worth a lot to someone else.
If you want to get rid of your film cameras and you think that it's best to just sell them then go ahead and do it.
Selling old film cameras is a lot easier than you think because there are many stores or shops that are willing to buy them off your hands.
You can list them on online stores like eBay or craigslist and find buyers who are willing to pay for your old analog cameras.
Additionally, local consignment shops are more than willing to pay a small fee when you give them your unwanted film camera.
If you are not sure how much your old cameras are worth, you can ask the shop owner and they may give you a free consultation.
As long as your cameras are in good condition and able to be used, then by all means go ahead and sell it to the store.
You'll walk away with a decent amount of money in your pocket.
Make a vintage camera lamp
Vintage things will always be in fashion.
From furniture to clothing, everything from vintage comes back into style again and again.
You can use the old cameras that you have in your attic or at home to make a retro-looking lamp.
All you need to do is buy a small table lamp, get the lenses or filters and place your film camera lens on the table along with some filters, lights, and so on.
The combination of a vintage camera and table lamp will definitely give you a unique look.
You can even make your own camera lamp with just an old-fashioned film camera and some pieces of wood.
Search online for tutorials on how to make your own film camera lamp that looks really cool.
Create a vintage vase
Not everything is meant to be thrown out especially when it's something that holds sentimental value to the owner.
Take for instance, a set of film cameras inherited from your grandfather.
Instead of selling them to someone else or leaving it in an attic somewhere to collect dust, use your imagination and turn them into a unique vase that you can place in your home or workplace.
The lenses would make for a great decoration as it gives an interesting twist to the vase but still stays true to its name.
The best part of it is that you don't need a workshop or professional hands to make it.
Using this idea can give you a lot of creative juices flowing in your veins so you can think up other ideas to use the old cameras and film gear in other ways!
Put old cameras in frames for display
There's so much you can do with old cameras.
In this case, put them in frames and hang them on walls for display.
In fact, this is one of the most common ways people use to display their old cameras.
You can gather a few and create your own film camera wall hanging for your home or for an event.
This gives a good impression that you are into photography and love old things at the same time but it will also show sophistication, charm, and beauty in your personality that people will definitely notice.
Transform old lenses into flower pots
If you have old lenses and camera equipment then why not put it to good use by transforming old cameras into artistic flower pots?
You can use your creativity and imagination to create a masterpiece from something you once thought was useless or worthless.
Simply dismantle the lens or the camera, clean it, remove any excess paint and make sure that it's dry.
Now put in the soil and water and you're good to go.
You can also add a few colorful flowers if you want to make it look more appealing on your home décor.
The atmosphere in the room will definitely have a more interesting and fun vibe in it.
Recycle
The earth is currently facing a severe threat of becoming extremely polluted.
Various parts of the world are experiencing terrible effects of pollution like acid rain, haze, and global warming.
If we don't do anything about it then we will all be affected in some way or another.
The best thing you can do to help save the planet and all its resources is to reduce waste and recycle it back into useful products that can be used by other people or businesses.
If your film camera is damaged beyond repair and you cannot use it, recycling would be the way to go.
Find recycling centers nearby and go there with your old camera equipment.
Final Thoughts
There you have it! As you can see, there's so much that you can do with old camera equipment.
Most of the things on the list are easy to do and they require little creativity.
You may not make a lot of money when you get rid of your old cameras but as long as you feel good about what you've done, then it's ok.
Older cameras are valuable because they are fun to use and it brings back memories from the past.
FAQs
Are old film cameras worth anything?
Yes! Old cameras are not only worth something, but they are also an antique which means that you pay a lot for them.
If you have a set of film cameras and you don't know if they're worth anything then put them to the test by listing them on eBay or craigslist.
You'll be surprised at the amount of money your old camera will fetch.
Older cameras tend to be more valuable than newer ones because a lot more people want them as collectible items.
Is there any demand for film cameras?
Yes! Film cameras are gaining interest and popularity in the past few years.
Most people prefer buying used things over new products.
Thanks for your feedback!