Jeans are in high demand because they are durable and versatile and are the main choice for everyday fashion. But As your old jeans start to wear out they start to look bad, as their color fades, stains appear and and the material frays and results in holes over time making them look less appealing.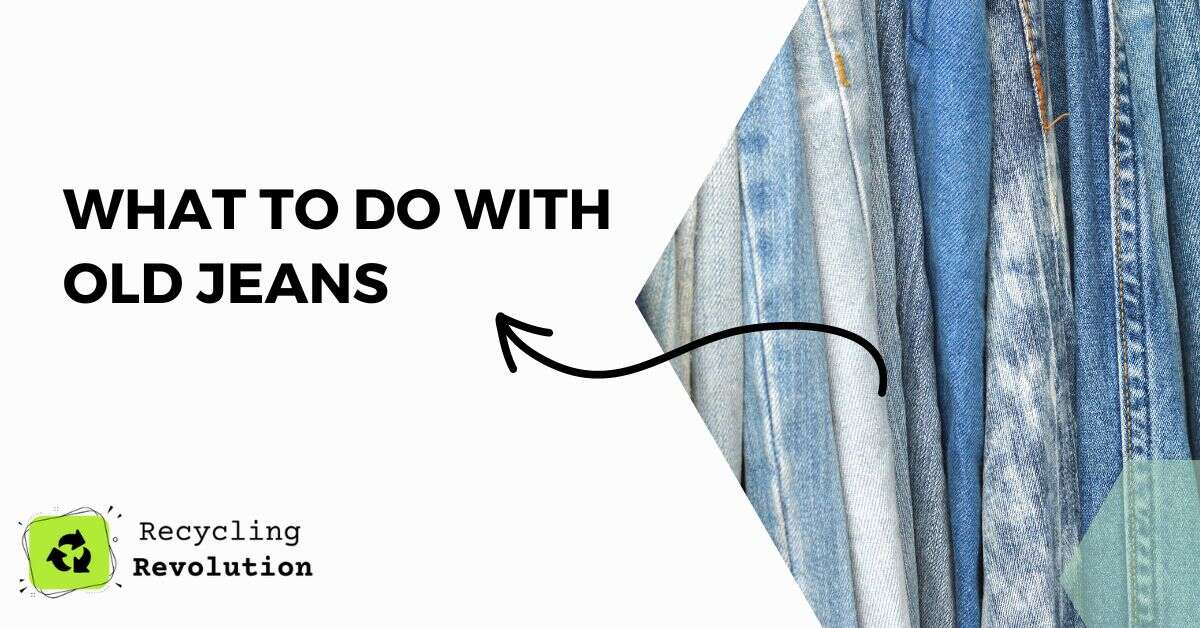 That's not all, times change, as do fashion trends. It simply may not look cool if you are wearing baggy or flared-bottomed jeans in 2023, but fashion trends have been showing to be cyclical so those colorful jean patterns from the late 80s or early 90s may be coming back in the next season, which begs the question, Should they stay or should they go?
The other thing to consider is "do they still fit" can you squeeze into your black old skinny pair of jeans from when you were 16 years old? The chances may be slim (Pardon the pun) and we've all heard at least once from our friends or family who hold onto their old pair of jeans as a "one day when I'm skinny again" pipe dream to get back in the physique when they were pre-30 years old.
Many people know that a pair of Jeans can go a long way, they are durable but not indestructible. If you feel that your jeans have endured a lot and there is still so much more they can do before they reach their end, repurposing them is always a good choice.
Here is a list of a few things you can do with old jeans:
13 Ideas What to do with old jeans
While clothing is one of the easiest items to repurpose, approximately 11 million tonnes of textile waste are produced in the United States every year.
When you look at that number, it is hard not to feel bad about throwing away perfectly good materials.
But when we think about other ways to get rid of old clothing, we are more likely to repurpose it.
If you don't want to throw out your old jeans, here are ideas for what to do with them instead:
Turn old jeans into a pair of shorts
Is summer coming in? If so, you might want to create a new pair of shorts out of your old jeans.
To do this, you will need to measure the length from the top of your thigh down to where you want the bottom of your shorts.
Cut all the way around your jeans where you have drawn this line. If you are one of those people who like their shorts with a frayed look then this is the perfect DIY project, all you need is a pair of scissors and 10 minutes and you should be done.
You can achieve both looks by fraying or cutting with pinking shears. Some people choose to do both! If you want something more stylish, you can add some lace to the frayed edges to make it look a bit more girly.
But this is optional if you are going for another look.
Now you have your shorts!
Make a reusable shopping bag
Grocery shopping bags are a must-have, but unfortunately, they are one of the most wasteful products out there.
That is why they are completely banned in some states as they get discarded and end up as "litter".
You can avoid this problem by making your own reusable grocery bag out of old jeans!
The best thing about this is that you can customize it so it looks unique and not like all the other plastic ones in the store.
To do this, cut the legs off of your jeans.
Fold them in half and stitch up the sides.
It may be a good idea put an inside pocket on the other side so that you can use it to hold your personal items such as car keys or your phone.
Then, you can carry your groceries in style! This can be a great way to get rid of all the plastic grocery bags and make a more environmentally friendly choice.
Create a twisted denim headband
The amount of money we spend on hair accessories can be ridiculous! We tend to buy tons of headbands and bows from stores, but the problem with these is that they can quickly break or get lost after a few months.
If you want something unique and more sustainable for your hair accessories, create a twisted denim headband using your old jeans.
Since there will be so much leftover material from the jeans, take the opportunity to make more headbands for the girly girls in your family.
Friends should also benefit from this if you don't mind sharing! Denim never goes out of style and you can use a pair of jeans ripped into many strips to create an amazing new accessory.
You'll turn heads wherever you go!
Make a pencil case out of your old jeans
Measuring, sketching, and writing notes require a lot of tools.
Keeping track of all these tools can be challenging.
A great way to keep all these tools organized is by making a pencil case out of old jeans.
Just measure the bottom parts of your jeans and cut the legs off entirely.
Put these pieces together to form a square and then sew both sides so they form a tube.
Sew up the bottom, turn it inside out and your pencil case is ready to go! If you want, take the time to decorate your pencil case with buttons or other unique materials that you may have lying around to give it a more personal look and feel! This can be a great gift for anyone who is in school.
Create a cool backpack
Backpacks are the ultimate companion for anyone who has to carry a lot of stuff with them.
Unfortunately, some of us tend to buy cheap, plastic backpacks that are both uncomfortable and hard to carry around.
Instead of spending more money on another bag that probably won't last long, make your own backpack out of the jeans you've stopped wearing!
You might not be able to make a large backpack out of the denim but it'll be sizeable enough to carry books around.
You can also add a long strap so you can use your backpack as a messenger bag.
The pockets from the jeans will come in handy to store important things like your pencil case, personal items and even snacks.
Pride yourself as the coolest kid in school with an amazing denim backpack to carry all your stuff!
DIY Coasters
Coasters may not be an item that you need very often but they are great to have just in case.
Every home needs coasters to protect the furniture from getting damaged by hot or cold drinks.
But you can make your own DIY coasters that will provide you with better protection against heat and water.
In this case, you'll need the pockets from your unwanted jeans to create strong and durable coasters.
Make sure to iron your denim pockets so they don't have any creases.
Also iron over the edges so that they are all even and stitch them up to make sure they won't fray over time.
The denim coasters will surely turn out to be a great gift idea for anyone who loves to drink a lot of coffee or tea and wants something trendy yet practical in their home.
Not only will these protect your furniture but they are also easy to store when you don't need them anymore.
Cleaning them is also quite simple since they won't break down easily when they get wet or sweaty.
Upcycled denim placemats
Modern and minimalistic design is in these days. So why not upcycle your old jeans into modern and chic placemats that will look great on any table?
Take the opportunity to create something out of denim that you can use for a long time since you don't need to replace them often.
The placemats will be a good idea for anyone who loves to have a stylish kitchen and wants something unique that has been upcycled from old jeans.
The best thing about this project is that you won't need any special tools.
All you need is a pair of scissors, needle and thread, and your denim pieces.
You can use different colors or even different types of denim to create some pretty cool placemats.
Make sure that when you are done, you flip the denim over so you can admire your stitches.
You can also add labels or names to make them more personalized.
Create a denim bracelet
Bracelets are an amazing accessory that you can pair with whatever outfit you want.
They are especially a favorite for women as they make any outfit better.
Unfortunately, bracelets can cost a lot of money which is why we buy cheap plastic ones that turn out to be a waste of time and money after some time.
If you want to create an amazing bracelet out of something sustainable, use your old jeans to make one from! You'll have endless designs to choose from.
The possibilities are really endless! You can create basic bracelets using just two pieces of denim or create a more complex design with many details and make it look like a piece of art.
Make a denim rug
Rugs are great for decorating your home. They give it that finishing touch to make it look more cohesive.
A rug can also be a good way to make your floor softer and warmer so you can relax in any room of your house.
If you want something that is both durable and eco-friendly, use old jeans to make a denim rug! The best thing about this project is that you don't have to buy anything whatsoever.
Use the old jeans that have been left forgotten in your wardrobe for too long.
Cut them apart and sew the fabric to make a denim rug that can be used anywhere! It doesn't matter if you have one leg or two, you can still use them to make a neat, durable and comfortable rug that will turn heads wherever you place it.
This is also a great gift idea for anyone who is moving out of their apartment and wants to add some decorations! This type of rug will withstand even pet claws, so you don't have to worry about having sharp objects on your floor.
Make small craft bins for holding supplies
As an artist and crafty people, we need to have supplies around the house.
It's important to have all the materials necessary for any project you are tackling.
One way to keep them in place is by making small craft bins! These will come in handy if you want to keep your supplies neat and organized.
The best thing about these bins is that they are handmade and therefore, as unique as you are.
You can use different colors of denim to match the decor in your room.
It's a good idea to decorate the bins with buttons that might have come with your jeans or some other decorative materials for more personal touches.
Recycled jean slippers
We've all been there when you need some comfy slippers to wear around the house but you can't find them.
We usually end up buying cheap house slippers that don't last for long and are uncomfortable to wear.
You can make your own slippers from old jeans and make sure that these won't cost you anything! These will be a great gift idea for anyone who loves comfy sleepwear or needs something new for their feet.
It's best to use denim that is sturdy so it can withstand daily wear and tear.
Donate old jeans
Of course, you don't need to make all these projects with your old jeans and If you have a lot of jeans that you never wear or don't fit anymore, you can simply donate them to someone who needs them, start with Goodwill or the Salvation Army or a charity in your local area.
There are many organizations around the country that accept old clothes and give them to people who can't afford to buy brand-new ones.
Sell Them
There has been a resurgence of old pairs of jeans ending up in thrift stores and vintage shops where they buy from a charity op shop and flip them in vintage markets for a profit depending on your city you have probably seen this in one form or another.
If you are sitting on an old pair of jeans that were fashionable but not anymore then list them on facebook marketplace, ebay or craigslist and try your luck. You will be surprised by what people are interested in taking them off your hands.
Final Thoughts
In order to keep the world a better place and the earth healthy, we need to be conscious of our actions and the things that we use for our daily lives.
Old jeans have so many uses when you upcycle them and turn them into useful things that you can use in your day-to-day life.
Creating something out of nothing is also a skill that will come handy when you are trying to save money on things.
Instead of buying a new piece, you can always make one yourself.
Upcycling is also great because it allows you to make something new out of something old and forgotten.
FAQs
Can you put the jeans in the recycle bin?
No, you cannot put your jeans in the recycling bin.
Jeans are made out of hard fibers that can't be recycled like paper and plastic.
Can you repurpose jeans?
You can simply cut them into small pieces that can be reused in another fashion or recycled.
Jeans can also be used as a canvas for sewing or painting.
Thanks for your feedback!