A dishwasher is more than just a kitchen appliance and It's your gateway to a world of organized cleanliness.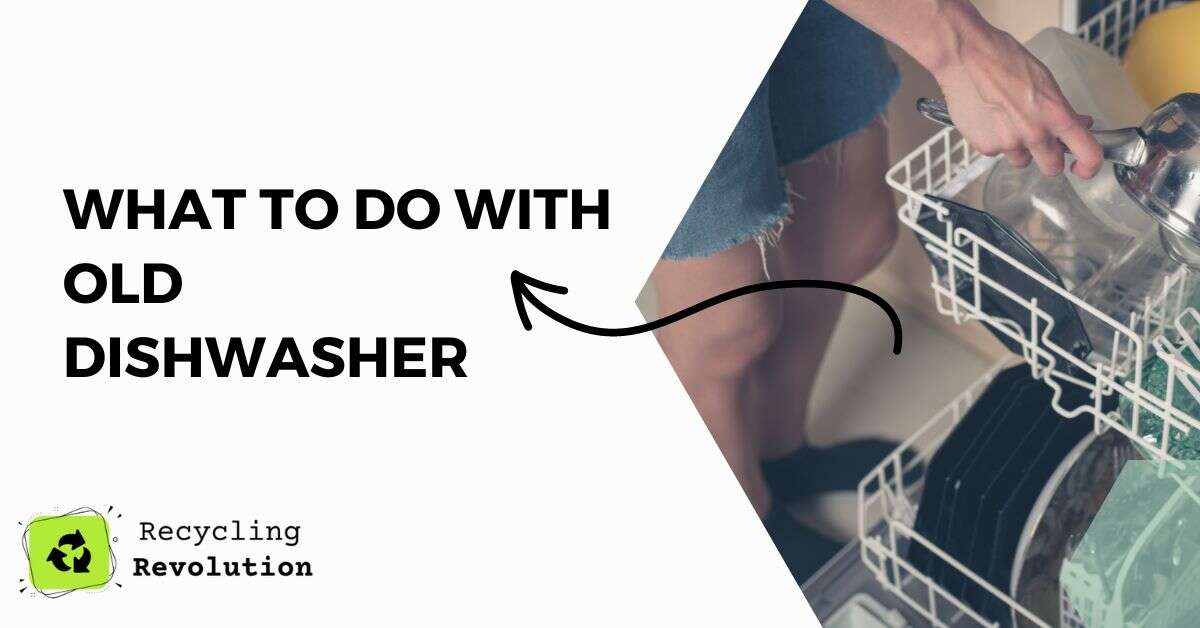 Your old dishwasher might be broken, or it might just be that you're in need of an upgrade. In that case, you've probably not thought of what to do with your old dishwasher.
Where does it go?
Remember that this is a sizeable device and simply keeping it in your home causes it to take up much-needed floor space.
Landfills are filling up over time, and each new appliance that gets tossed into a landfill is one more ton of waste, one less ton of recyclable materials.
Therefore, you'll want to find a way to get rid of your old dishwasher that doesn't involve just throwing it away.
And that's where we come in!
What to do with an old dishwasher
If you've been using the same dishwasher for years, it's very likely that it's a clunker.
The old technology is cumbersome, and the performance of your dishwasher is likely to be unsatisfactory.
If you're thinking about buying a new model, you'll want to think about how to make the most of your old dishwasher in the meantime.
Here are 6 practical ideas for disposing of an old dishwasher.
Donate it
So many people are not as fortunate as you to own a dishwasher.
It's important to remember that many people do not have access to a dishwasher, or can't afford one.
For example, many low income families can't afford even a simple washing machine or meal.
Many people are happy to receive a used appliance that you no longer need.
Find out through a local charity, or even a local church, if there is somewhere that you can offer your old dishwasher as a donation.
Donate your old dishwasher to Habitat for Humanity to help build homes for hard working families in need of affordable housing.
Habitat builds, renovates and repairs homes for low income homeowners across the country and around the world.
They take all kinds of donations and sell them to other people who can use them.
There is also Goodwill, Salvation Army, and a number of other places that will take your unwanted household items.
Donate to a school or institution
Is there any chance your old dishwasher could be used at an institution that helps children with special needs?
For example, an elementary school in your area might have trouble finding appropriate household appliances for the children.
These schools deal with a large number of children who take meals at the school.
The children need a dishwasher that can handle many plates, bowls, and utensils.
They also need a dishwasher that is powerful enough to clean the utensils and dishes.
You can donate your unwanted dishwasher to a school or an institution like this, and all of the children would benefit.
It's important to realize that many schools and institutions are very pressed for funding, especially public schools.
They don't have the money to buy brand new appliances, and they will be more than happy to take yours off your hands.
With that being said, it should be in perfect working condition to ensure it will be of use to the school or institution.
Sell it
When you get a new dishwasher, it doesn't necessarily mean the old one is bad or broken.
You might be in need of a better model, but your old dishwasher is still working fine.
In that case, sell your old dishwasher online to help recoup some of the costs of the newer model you plan on getting.
A practical place to sell your old dishwasher is on Craigslist or something similar.
Try to offer it at a fair price and think about how you will ship it if it needs to go far away.
eBay could be another place to sell your old dishwasher, but make sure it's in excellent condition.
You want to be sure that you'll have no trouble selling your old dishwasher, so take the time to clean it and make it look nice.
Don't forget to take crystal clear pictures of the items so that any potential buyers can easily see what they are getting.
Try your utility company
Not all utility companies will take old dishwashers, but some do.
Check in with your utility company and see if they have any policies related to old dishwashers.
If you ask nicely, and show them that you're looking for a way to keep your appliance out of the landfill, there's a good chance that they'll try to help you out.
In some cases, the disposal will be free if it's coming from your home.
It's worth a try, and it might be worthwhile to take time to call up your utility company.
So many companies have joined in the trend of encouraging sustainability among their consumers.
For that reason, they offer recycling programs to customers.
Many companies will take your old dishwasher and recycle it for you.
They might even give you a discount on your monthly bill if you show them that you're practicing sustainability in your home.
When choosing what to do with an old dishwasher, recycling it is important because it reduces your impact on the environment.
Talk to your appliance retailer
There's a good chance that your old dishwasher was purchased at the same store you'll go to buy your new dishwasher.
In that case, you should talk to the manager of your local appliance retailer and ask them about their policy on older dishwasher.
You might discover that they take away old appliances for safe and responsible disposal if you purchase any new appliances from them.
Usually, they'll install the newly-bought appliance in your home and then haul away your old one at no extra cost.
In that case, shop from retailers that offer this service to ensure your used dishwasher goes to a place that will recycle it in an appropriate manner.
Usually, many retailers like Sears and Home Depot offer this service, just be sure to ask before you buy a new one.
You can also ask what their policy is for the disposal of old dishwashers when you're making your purchase.
Some will charge a small fee for the disposal service but it's better than tossing the appliance in the trash.
Look for a RAD partner
The EPA has a special program referred to as RAD (Responsible Appliance Disposal).
This program is designed to help reduce harmful emissions into the environment by recycling old appliances.
In this case, you can ask the people at your local appliance store if they take part in this program.
If they do, they will accept your old dishwasher and recycle it responsibly.
If you need a new dishwasher due to leaks or other problems, you'll want to discuss this with the appliance retailers first.
RAD has partnerships with various organizations as well as local governments, appliance retailer, utility providers and manufacturers.
The partners collect and safely recycle most old appliances that would otherwise end up in landfills.
They also offer consumers education programs on how to reduce their environmental impact by effectively disposing of old appliances.
Check with your local government
Municipal governments are always interested in recycling.
For example, your city might have a program for collecting old household appliances and sending them somewhere where they can be responsibly recycled.
Call up your local government to learn more about this service.
Sustainability is a huge part of city life, and you might find that your municipality is willing to help you out.
They might take the dishwasher away for free or offer a rebate.
Some cities have even banned appliances from being placed in the trash.
Instead, they offer waste disposal services that include curbside collection or drop offs at recycling centers.
These services usually charge a small fee for the disposal of your old appliance, but it's worth it to save the environment.
Recycling is good for you and for the planet, so don't forget to check with your local government if you're in need of guidance on old dishwasher disposal.
In case they don't offer recycling services, they'll most likely recommend you a facility they know will be responsible with the disposal of your dishwasher.
Gift it to a friend or family member
Use your old appliance to help someone else with their home.
If you know someone that's in need of a new dishwasher or just needs some assistance, consider gifting your old appliance to them.
It sounds like a great way to give back, and it's a practical gift for someone who would love for it to go somewhere respectful.
If you want to give away an old dishwasher, try giving it to a family member or friend so that they can make use of it in their home.
A gift will always be appreciated when given with an open heart and pure intentions, and it will almost always be utilized.
Hire a junk removal company
There are some people who simply can't imagine getting rid of an old dishwasher.
If your old dishwasher is gathering dust, it might be worth hiring a junk removal company to dispose of it for you.
They will take care of all the details for you and make sure that your old appliance goes to a responsible place.
Many junk removal companies offer recycling options as well as disposal services.
So, you'll be happy to know that your old dishwasher will be re-used rather than going to a landfill.
Just remember that you want to hire a junk removal company that is environmentally-responsible.
Look for companies first and then ask about recycling services.
Most of the time, they will offer an environmentally-responsible solution for your old dishwasher disposal.
Take is to a scrap yard
If you're looking for a cheap way to get rid of an old dishwasher, consider taking it to a scrap yard that re-utilizes parts.
For example, they will reuse your old dishwasher door and add it to the next creation of their brand new dishwasher.
They'll also recycle the rest of your old appliance into the new one, so you know that nothing will go to waste.
Most scrap yards are environmentally-friendly and make sure that everything is responsibly recycled into future products or used materials.
Talk to a local scrap yard that offers environmentally-friendly solutions for the disposal of your old appliance.
Final Thoughts
If you need a new dishwasher, you'll want to know where to get it and how to dispose of your old one responsibly.
In doing so, you can feel confident that you're doing something good for the environment while keeping your family safe.
So, you shouldn't be nervous about disposing of an old dishwasher in a safe manner.
Instead, focus on what you can do to help the environment.
Then, look for a way to get a new dishwasher that will fit your family's needs in the right way.
You'll feel better about your purchase if you know that the old one is not going to end up causing harm to others.
FAQs
Will the scrap man take a dishwasher?
If the dishwasher has metallic parts that can be recycled, then the scrap man will take your dishwasher.
They will usually accept it from your home and pay you for the metal that can be repurposed.
How do i dispose of a dishwasher in NYC?
Residential buildings and apartments often have a free curbside pickup for appliances.
A trash truck will show up on the designated day to haul off old appliances, so don't forget to put it out!
Thanks for your feedback!