Scrap metal recycling is a booming business and a resourceful way to make money.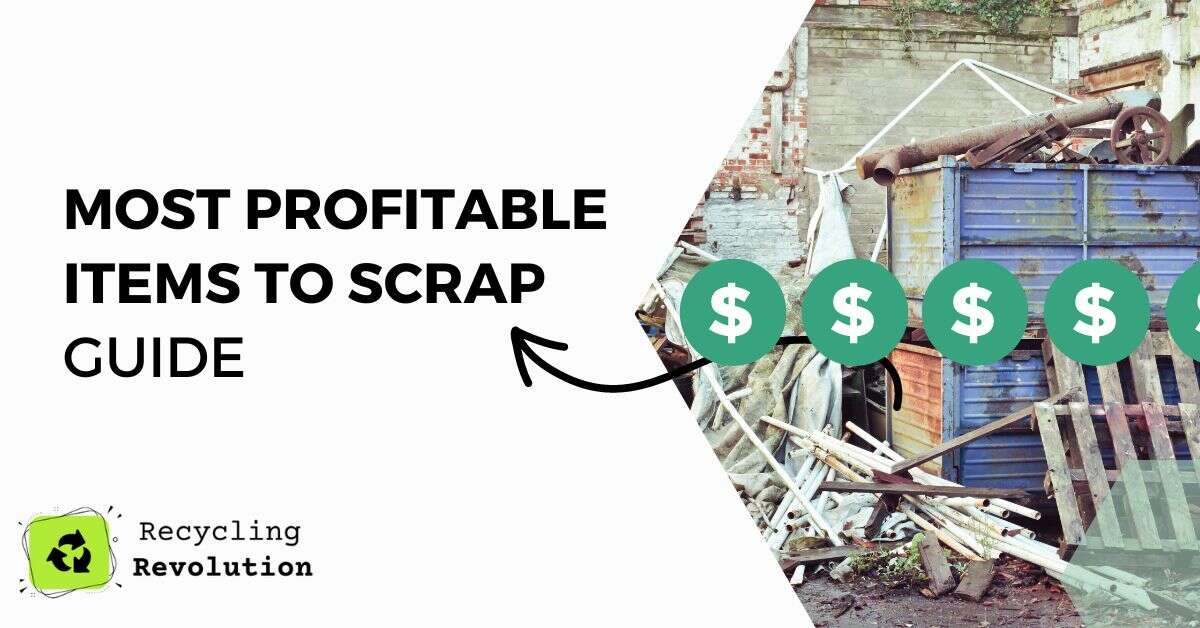 With the rising cost of living, more people are turning to this sustainable profession for ways to pay their bills.
When you're looking for scrap metal recycling, it's important to know which items are worth the most money and will give you a better return on your investment time! In that case, we'll look at the most profitable items to scrap.
What are the most profitable items to scrap?
When you are stuck with a lot of old items around your home, you have a lot of options when you're looking for a quick way to rid yourself of these items.
One of those options is to try and sell them.
Whether you're looking to make some quick cash, or you want to turn a big profit, there are plenty of things throughout your home that are worth scrapping.
Get in on the action of metal recycling and you'll get paid in no time! Here is our list of things that are likely to get you the most money in scrap.
Copper
Metal recycling is all about recycling items for the highest price.
Scrap copper is at the very top of the list when it comes to profitability but also takes a lot of work to get! Copper has become a popular hot commodity, and there are plenty of people willing to pay top dollar for it.
While copper can be found in items such as electrical wiring and plumbing pipes, you need to know where exactly you can find this metal or you may end up with less than what you expected.
Take a look around your home and identify any copper piping.
While you may not want to scrap every object with a copper, there are a lot of things that you may be able to get rid of.
Duct work, plumbing, and electrical outlets may all have a few old pipes attached.
With that said, you need to collect enough pieces to make it worth your time.
Depending on the type of Copper, you can earn $1.95 per pound.
Aluminum
Aluminum is used in so much of our modern society, and it's easy to find on even on the sides of the road.
Whether you're looking for pieces or looking to strip them down, you can make a lot of money by taking your aluminum to the scrapyard.
Aluminum is highly recyclable and worth more than you might have imagined!
This metal is used everywhere and in many of the typical everyday items.
You'll find aluminum in gutters, soda cans, window frames, bicycles, automobiles, food cans and so much more.
Its versatility and easy availability makes it an obvious choice for anyone looking to make a few extra bucks.
You can make $0.25 per pound of aluminum which is always a good return on your time.
Its always prudent to collect a few pieces of aluminum before you scrap it though.
Stainless Steel
Stainless steel may not be as popular as other metals, but there are lots of products out there that use this metal.
Stainless steel is a great choice for making money when you're starting out because it's widely used.
It's found in old microwaves, old cars, refrigerators, dishes, sinks, faucets and more.
The best part is that they don't take as much effort to collect so you can quickly make a few dollars.
Stainless steel scrap prices typically ranges between $0.12 and $0.18 per pound depending on the market price at the time of your collection.
Before scrapping, clean and polish your stainless steel so that it's in tip-top condition.
Any stains will depreciate the value of your scrap metal.
Brass
Brass is found in many older homes and buildings making it very popular to scrap.
It's also quite valuable and could fetch a hefty price if you've got a big collection.
Brass is quite malleable and is used in many of the same items as copper.
It's often used in faucets, light fixtures, keys, trophies, door knobs, hinges and a variety of other items.
The twist here is to look for brass items that are still in good condition.
Older brass objects tend to have a higher value than newer objects.
Also, in some cases it's mixed with other metals such as aluminum.
So you'll have to spare some time to sort through your collection.
Brass scrap prices range from $1 to $1.70 per pound depending on various factors.
Lead
Lead is another metal used in many of the older items.
It's heavy and can be found in clocks, toys, pipes, windows and much more.
Lead is a tough metal that can often be found outside of cars or in old homes.
Look around your home especially if it's filled with antique items and see if you can find any lead.
Newer items such as ceiling fans and paint cans might also contain some Lead if you take the time to check.
With that being said, most of the time this metal is mixed with others like Brass or Copper, making it difficult to know exactly what you have.
However, if your lucky charm enables you to stumble on a sizeable portion of Lead, you can definitely make a good chunk of money by selling it.
Lead scrap prices are very fluctuating.
The most recent estimates have them ranging between $0.75 and $0.95 per pound, but depending on the market, they could be higher or lower.
Computer parts
Computer parts are a popular commodity to sell when starting out.
They're often around in houses, and there are numerous businesses that use computer parts from old computers.
Get your hands on some hard drives, monitors, cables, motherboards and more and make a few bucks.
The price of scrap computer parts is also affected by the market.
With that being said, you can get $0.30 to $0.80 per pound depending on the market prices at the time you're trying to sell your items as well as the specific part.
Never toss your old computer when you can harvest the parts and make some good money!
Platinum Jewelry
Not many people are aware of this, but it is much easier to sell jewelry than other metals.
People sometimes overlook the value of Gold, Silver and Platinum when they look at their jewelry.
These 3 precious metals have high value for a reason, and you can make some extra cash by selling them.
Look for pieces that are not new, or ones you don't like or need anymore.
Platinum jewelry including rings, bracelets, necklaces and earrings are frequently of high value.
Most of the time, they have a minimum worth of $100.
This is because Platinum is extremely rare and can only be mined.
Jewelry made with Platinum weighs more than other metals.
It's also harder to find and melt down.
Its scrap prices often fluctuate due to market conditions and other factors.
The best way to sell your Platinum Jewelry is to use the internet or a specialized scrap dealer.
If you're able to find a local dealer, it might be in your best interest to go there in person rather than shipping the items out by mail.
Car batteries
Car batteries are often overlooked when it comes to recycling.
They can be cumbersome to handle, and it's hard for people to get rid of them.
However, they're not that difficult to get rid of and once you're done, you can make good money off of them.
Car batteries contain Lead and other metals that have value in the scrap industry.
The price range varies quite a bit depending on your location and market conditions at the time of collection.
You're looking to be able to sell your car batteries for around $0.50 per pound.
Junk cars
A junk car or used car is worth money even if it's destroyed.
There are probably a lot of people who would love to get their hands on such a vehicle, and you can sell it for parts to make some good cash.
The best part is that most of the time, you don't need to be a mechanic to extract the parts from a junker.
You can do it yourself.
A local scrap yard can salvage your junk and sell the parts.
The scrap yard then sells them to consumers or dismantles your car and recycles it into other products.
You can also sell your old car to a new car dealer who might be willing to buy it for close to scrap price, which will give you more money.
One of the best ways to go about this is by trying to sell your junk car online.
Bottles and cans
Many people don't know that they can recycle their bottles and cans as scrap.
It's not rocket science.
You can buy a machine that will crush the cans into pieces.
This will ensure you get maximum money for each of your cans.
Be careful though, because some cans are harder than others to crush.
Soda cans are always good to go, but beer cans are tougher.
The best way to get the biggest bang for your buck is by renting a machine that will crush the cans.
Now you have some cash in hand, you can buy a new appliance or take a trip around the world.
Final Thoughts
Don't forget to clean these items and make sure it's in good condition before you sell.
The versatility of scrap metal makes it a great one for money making.
With the hundreds of stores all over the country, there are plenty of places that want your scrap metal.
Scrapping is easy and cheap, but you do need to be prepared.
So, get out there and start earning some money!
FAQs
What is the best thing to scrap right now?
The best things to scrap right now would be Aluminum, Copper, and Stainless.
These are the most common metals and are the easiest to sell.
What scrap metals pays the most?
Copper and Aluminum pays the most.
However, copper will make you the most money even in small quantities.
Thanks for your feedback!